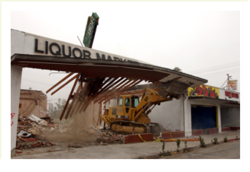 In order to remain competitive and offer the quality of service we are known for, fundamental changes needed to be made.
Azusa, CA (PRWEB) May 11, 2011
Alliance Environmental Group, Inc., (Alliance) recently announced the re-launch of their structural demolition division. Originally established in 2004, the division has completed hundreds of demolition projects throughout California.
"In 2010, we took a hard look at the industry, the effect the flat economy was having on business, and made some major decisions in re-tooling the division," says Joe McLean, CEO of Alliance. "In order to remain competitive and offer the quality of service we are known for, fundamental changes needed to be made."
"One of the major changes made involved bringing in Rick Bradley to head the division," continued McLean. Bradley has been in the construction industry for more than 13 years and has done it all. "If you know how something is built, you have a better idea of how to demolish it," says Bradley, (Demolition Operations Manager). "Sometimes bigger is just better," says Bradley. "We needed to migrate from using small equipment like bob cats and backhoes, to larger equipment like Excavators. Additionally, and this is an important distinction between Alliance and a lot of other companies," stressed Bradley, "our workers are qualified, trained and licensed to run the equipment to ensure the protection of your investment."
Alliance prides themselves on their outstanding safety record, their commitment to environmental stewardship, the high level of productivity of their skilled workforce and the three R's – Reduce, Re-use and Recycle. The company strives to be as green as possible. Before a demolition begins, Alliance salvages what they can including copper wire, insulation and furnishings. Each demolition process should meet the client's specifications and needs, while at the same time creating options that offer sound environmental solutions.
Alliance provides a comprehensive range of demolition services in conjunction with abatement services.

All phases of building and structure removal, including concrete
Partial or complete building and structure demolition
Selective interior or exterior demolition
Total building interior strip-outs
Site clearing
Demolition; Deconstruction, Asset Recovery, Equipment Dismantling
Hazardous Materials Removal; Asbestos removal, Mold, PCBs, Lead
Disaster Recovery Fire, Sewage Backup, Flood, Water, Wind Damage Restoration
Emergency Response Service
With more than 55 years of experience, Alliance Environmental Group, Inc. is one of the leading qualified environmental companies in California. The streamlined, restructured demolition division complements the existing HVAC duct cleaning; asbestos, lead, and mold abatement; pest control; emergency response and traumatic event clean-up services offered by Alliance to individual and commercial customers throughout California. For more information, go to http://www.alliance-enviro.com.
###