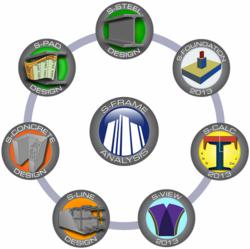 We continue to build upon the functionality created in R11 for both integration and interoperability.
Vancouver, BC (PRWEB) June 27, 2013
S-FRAME Software Inc., developer of structural engineering software solutions used by Structural and Civil Engineering Professionals worldwide, announced today the point release of S-FRAME Structural Office R11. This release is now available to new and existing customers. This point release provides updates such as Composite Beam Design, Revit 2014 support, additional Tekla Bi-Directional support features, and updated S-CALC interface features to Revit and Tekla. Key Features in Structural Office R11.1 include:
Support for Composite Beams in S-STEEL Design via: CISC S16-09 and AISC 360-10 LRFD/ASD codes, Partial or full composite sections, Support of many metal deck configurations, Multiple concrete strengths and densities can be specified, Availability for both automated Design and Code Check input windows, Positive and negative bending moments, Shored and un-shored construction, Parallel and perpendicular ribs, Strength and Serviceability checks, Accounting for shrinkage and creep, Automatic calculation of "Stud Capacity" and "Number of Studs Required" over shear span, and Composite beam design data stored in TEL file.
S-FRAME Revit & Tekla Links New Features include: Revit 2014 support, Shape mapping added to Import, Uses Revit families embedded in File, Export Revit Foundations as panels, Auto generate S-FRAME Groups from Revit Marks & Tekla Names, Import of Member End Results from S-FRAME back to Tekla, Import of Sloped Panels, Shape Mappings included for common database shapes, Shape Map directory exposed for copy/paste, Shape Map merge, and Section Override Persistence.
S-CALC New Feature Additions include: Drag & Drop DXF files onto the main window without need for File > Open, Modification of the Revit and Tekla Links to use the same Shape Map as the S-FRAME Link, so changes are persisted in both links, to transfer polygons for unmapped shapes, to transfers compound and built up shapes, and to provide help documentation in German.
Dr. Marinos Stylianou, CEO of S-FRAME commented about the R11 point release, "The R11 point release shows the commitment by S-FRAME's development staff to produce the highest quality product. The team continuously shows the ability to quickly deliver functionality both requested and needed by their customers. We continue to build upon the functionality created in R11 for both integration and interoperability. Our hard work goes on as we develop new state of the art functionality, keeping in mind the usability by the customer of that technology."
About S-FRAME Software, Inc.
Since 1981, after introducing its first commercially available 2D analysis program, S-FRAME Software has led the industry in the development of easy-to-use, reliable, and innovative analysis and design software products trusted by structural and civil engineers worldwide working in a multitude of industries. S-FRAME's Structural Office is a structural model management environment that enables users to design robust structures regardless of geometric complexity, material types, loading conditions, nonlinear effects, and design-code requirements. S-FRAME's software products include: S-FRAME®, S-STEEL™, S-PAD™, S-CALC™, S-CONCRETE™, S-LINE™, S-VIEW™ & S-FOUNDATION™.