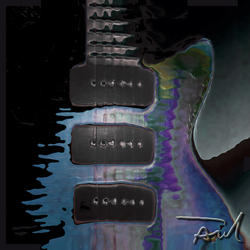 Creating the visual equivalent of a catchy tune intrigues me.
New York, NY (PRWEB) March 5, 2011
Artist Paul Thatcher is pleased to announce the release of his jealousFingers™ Collection for 2011.  Created for those that can't get enough of the instrument that rocked the world, Paul offers up his unique guitar works with titles such as nuBrazil, zebraFly and Picasso's Hammer. Several works from this twelve piece collection will be on display at the 2011 Artexpo held in New York City, March 25 - 27 at Pier 94 on the Hudson. Asked why guitar imagery, "It's a love affair with the instrument", Paul explains.  The relevance of this modern instrument in defining music genres extends notably beyond the world of rock & roll world.  Guitars have become ubiquitous in advertising, invaded the world of video games and are collected and played by millions. The lines of the Les Paul and Stratocaster guitars truly possess universal beauty, similar to that of the the Alfa Romeo Stradale. The complete collection can be viewed at http://www.ilovepaulguitars.com.
About the Artist - It's no coincidence that digital luthier Paul Thatcher embraces sweet distortion.  A reckless guitar slinger since seventh grade, Paul is obsessed with the distortion that can be garnered by a vintage Strat and Hiwatt stack. As British rockers were invading the hearts, minds and radios across America, Paul's musical pallet was developing and vulnerable to the intoxicating hooks, licks and grooves of the time. Having absorbed a lifetime of music, it was the computer revolution that has enabled Paul to visually unleash the fruits of his musical tenure in a new medium.  Inspired by Peter Max''s unfettered use of color and bold lines, Warhol''s selection of hackneyed subject matter, he transforms simple photographs into powerful and alluring works of art.  Paul has coined his style as "digitally disturbed".  "I've been creating art ever since Crayola expanded their selection to 64 colors. Creating the visual equivalent of a catchy tune intrigues me," states Thatcher. As a reflection of the times, Paul strives to capture the vibe of the guitar hero generation. A portion of his works can be viewed online or live at strumGallery in Rochester, New York. 
# # #