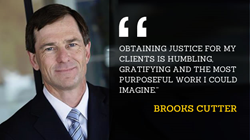 My mission is to win for the people I represent. I have the privilege of representing individuals who are often badly hurt and need a lawyer that will not back down from a fight
Sacramento, CA (PRWEB) November 04, 2014
Stryker hip implant settlement and lawsuit attorneys at Cutter Law are helping people who have had Stryker Rejuvenate and ABGII hip implant surgery requiring revision surgeries. People who want help finding out whether or not they may qualify for the Stryker hip implant settlement should call 855.767.7699 immediately. This is a new No Cost Information Hotline. There is no charge for a case evaluation and the friendly staff at Cutter Law will walk people through the process with patience. As reported by ABC News on November 3, 2014, a new settlement agreement was announced where people who have had revision surgery before November 3, 2014 may be entitled to up to $300,000 or more depending on their specific situation.
"My mission is to win for the people I represent. I have the privilege of representing individuals who are often badly hurt and need a lawyer that will not back down from a fight with a big insurance company or corporation. Obtaining justice for my clients is humbling, gratifying and the most purposeful work I could imagine. I was a member of the Stryker Plaintiffs' Steering Committee and that committee played an instrumental role in reaching this settlement agreement," says Brooks Cutter. He and his team of highly qualified attorneys have been representing people injured by defective medical devices for over 20 years. The Stryker Rejuvenate and ABGII hip implants could be defective medical devices.
Stryker hip implant settlement information is now available from Cutter Law for No Cost at 855.767.7699. People who have or had a Stryker Rejuvenate or ABGII hip implant were likely contacted by the surgeon who performed the surgery. The surgeon probably asked the patient to come back for an examination including an x-ray and a blood test. Depending on how this examination goes they may recommend a second surgery. For people who have had the second surgery before November 3, 2014 a settlement structure has been approved.
To learn more about the Stryker hip implant settlement or to find out if you may be entitled to compensation as part of the guidelines laid out in the settlement agreement please call the new No Cost Information Hotline at 855.767.7699.
Cutter Law
401 Watt Avenue
Sacramento, CA 95864
855.767.7699