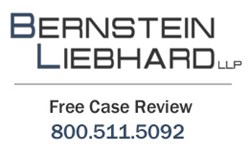 We are looking forward to seeing the FDA launch this new program. We continue to hear from individuals across the U.S. who allegedly sustained injuries stemming from the Stryker hip recall
New York, NY (PRWEB) September 29, 2013
The U.S. Food and Drug Administration (FDA) is launching a new system for identifying high-risk medical devices, like those affected by the Stryker hip recall (http://www.strykerhiprecall.net/) that it says will target product problems more quickly and improve patient safety, Bernstein Liebhard LLP reports.
According to an update issued September 20th on the FDA's website, the agency has announced its plans to phase in a new unique device identification system (UDI) that will require each medical device on the market to be labeled with a unique number indicating its model, expiration date and manufacturing date.* The FDA will primarily focus on high-risk medical devices, which may include metal hip implants similar to the now-recalled Stryker Rejuvenate and ABG II modular-neck hip stems, in its program launch. The new system will allow federal regulators to efficiently identify medical devices and improve the accuracy of adverse event reports indicating possible issues with each one, the agency's notification states.
Meanwhile, recent court records show that over 600 Stryker hip lawsuits brought by individuals who allegedly suffered pain, swelling, metallosis and other debilitating early device failure complications caused by the Rejuvenate and ABG II metal hip implants have been filed in the U.S. These devices were recalled by Stryker Orthopaedics on July 6, 2012.
"We are looking forward to see the FDA phase in this new program. We continue to hear from individuals across the U.S. who allegedly sustained injuries stemming from the Stryker hip recall," says Bernstein Liebhard LLP, a nationwide law firm representing victims of defective drugs and medical devices. Right now, the Firm is offering free case evaluations for potential Stryker lawsuit claimants who may have sustained pain, swelling, metallosis and other hip failure complications after receiving the Rejuvenate and/or ABG II modular-neck hip stems.
Stryker Hip Recall
Court documents issued in September indicate that Stryker lawsuits are continuing to pile up in both the federal and state proceedings established in the U.S. In a multicounty litigation currently underway in New Jersey's Bergen County Superior Court, a total of 382 cases alleging injuries caused by the Stryker hip recall have been filed. The lawyers at Bernstein Liebhard LLP are actively filing cases alleging metallosis, necrosis, osteolysis and other artificial hip injuries in this litigation. (In Re Stryker Rejuvenate Hip Stem and the ABG II Modular Hip Stem Litigation, No. 296)
A total of 290 Stryker lawsuits are also pending in a federal proceeding underway in the U.S. District Court, District of Minnesota, which similarly allege that the Stryker Rejuvenate and ABG II hip stems were defectively designed by Stryker Orthopaedics, given the potential for their metal components to fret and corrode at the modular-neck junction. The next status conference in this litigation has been scheduled for November 21st at 9:00 a.m. (In re: Stryker Rejuvenate and ABG II Hip Implant Products Liability Litigation, MDL No. 2441)
Plaintiffs involved in in both of these proceedings were allegedly forced to undergo revision surgery to remove the metal hip after it failed prematurely.
The Stryker hip recall was announced by the manufacturer on July 6, 2012 after post-market surveillance data revealed the potential for the metal components of the Stryker Rejuvenate and ABG II hip stems to fail early. In the wake of the recall, Stryker Orthopaedics has advised all recipients of these devices to undergo routine medical screening to monitor for the high metal levels in the blood, whether or not they are experiencing symptoms.**
Individuals who may have sustained early hip failure complications stemming from the Stryker hip recall may be eligible to file a lawsuit seeking compensation for out-of-pocket medical bills, as well as lost wages, and pain and suffering. Learn more by speaking directly with a Stryker hip lawyer at Bernstein Liebhard LLP. Free case evaluations may also be obtained by calling 800-511-5092.
*fda.gov/NewsEvents/Newsroom/PressAnnouncements/ucm369276.htm **literature.ortho.stryker.com/files/REJUV_COM_23.pdf
About Bernstein Liebhard LLP
Bernstein Liebhard LLP is a New York-based law firm exclusively representing injured persons in complex individual and class action lawsuits nationwide since 1993, including those who have been harmed by dangerous drugs, defective medical devices and consumer products. The firm has been named by The National Law Journal to the "Plaintiffs' Hot List," recognizing the top plaintiffs' firms in the country, for the past 10 consecutive years.
Bernstein Liebhard LLP
10 East 40th Street
New York, New York 10016
800-511-5092
ATTORNEY ADVERTISING. © 2013 Bernstein Liebhard LLP. The law firm responsible for this advertisement is Bernstein Liebhard LLP, 10 East 40th Street, New York, New York 10016, 800-511-5092. Prior results do not guarantee or predict a similar outcome with respect to any future matter.
###
Contact Information:
Felecia L. Stern, Esq.
Bernstein Liebhard LLP
info (at)consumerinjurylawyers(dot)com
http://www.strykerhiprecall.net/