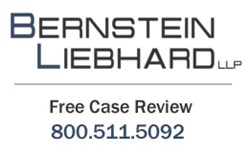 This new website is a one-stop shop for patients who allegedly experienced complications stemming from early failure of the device.
New York, NY (PRWEB) November 28, 2013
A new website for individuals allegedly affected by last year's Stryker hip recall (http://www.strykerhiprecallclaims.com/) has been launched by Bernstein Liebhard LLP. Serving as an online resource guide for patients who received the company's Rejuvenate or ABG II modular-neck hip stems before they were taken off the market in July 2012, the Firm's new site will provide essential information to anyone seeking to learn more about lawsuits to recover compensation for out-of-pocket medical expenses, as well as lost wages and other damages.
Details about the complications allegedly associated with these metal hip implants will also be available through the new site, as will updates in the fast-developing litigation of Stryker hip lawsuits pending in the wake of the recall. As of November 2013, court documents indicated that nearly 950 claims alleging pain, swelling, metallosis and other adverse tissue reactions had been filed between a federal and state proceeding established in the U.S.
"This new website is a one-stop shop for patients who received the Stryker Rejuvenate and/or ABG II hip stems and allegedly experienced complications stemming from early failure of the device. Our Firm continues to hear from individuals across the U.S. who claim to have been affected by last year's recall," says Bernstein Liebhard LLP, a nationwide law firm representing victims of defective drugs and medical devices. As the litigation involving these hip devices continues to mount, the Firm is offering free and confidential case evaluations to anyone who may be eligible to file a lawsuit over the Stryker Rejuvenate or ABG II implants.
Stryker Hip Recall
In the wake of the Stryker hip recall, which was announced by the U.S. Food and Drug Administration (FDA) on July 6, 2012, hundreds of lawsuits have been filed in the U.S.*
At the state court level, a Case List update from November 18th indicated that 553 Stryker lawsuits were pending in a multicounty proceeding now underway in New Jersey's Bergen County Superior Court. This litigation is continuing to move forward, according to recent court documents, with a Case Management Conference that took place the same day. The next meeting has been scheduled for December 16th at 11:00 a.m. (In Re Stryker Rejuvenate Hip Stem and the ABG II Modular Hip Stem Litigation, No. 296)
Federally-filed claims against Stryker Orthopaedics are moving forward as well, according to an update from the U.S. Judicial Panel on Multidistrict Litigation (JPML). A Case List issued by the Panel on November 18th showed 395 Stryker lawsuit claims filed in a federal proceeding established in the U.S. District Court, District of Minnesota. These cases, along with those pending in the New Jersey litigation, similarly allege that Stryker failed to provide adequate warning about the side effects that may stem from the Rejuvenate and ABG II implants, including their potential to fail prematurely and cause complications associated with elevated metal levels in the blood stream. (In re: Stryker Rejuvenate and ABG II Hip Implant Products Liability Litigation, MDL No. 2441)
In the wake of the recall, Stryker has advised on its website that all metal hip recipients undergo routine cross-sectional imaging and blood tests to monitor for heightened levels of cobalt and chromium in the body. *
Individuals who may have experienced complications stemming from the Stryker Rejuvenate or ABG II modular-neck hip stems prior to the July 2012 recall may be eligible to receive compensation for damages allegedly caused by their injuries. Learn more about the Stryker recall by visiting Bernstein Liebhard LLP's new website, or by calling the Firm directly for a free case evaluation at 800-511-5092.
*literature.ortho.stryker.com/files/REJUV_COM_23.pdf
About Bernstein Liebhard LLP
Bernstein Liebhard LLP is a New York-based law firm exclusively representing injured persons in complex individual and class action lawsuits nationwide since 1993, including those who have been harmed by dangerous drugs, defective medical devices and consumer products. The firm has been named by The National Law Journal to the "Plaintiffs' Hot List," recognizing the top plaintiffs' firms in the country, for the past 11 consecutive years.
Bernstein Liebhard LLP
10 East 40th Street
New York, New York 10016
800-511-5092
ATTORNEY ADVERTISING. © 2013 Bernstein Liebhard LLP. The law firm responsible for this advertisement is Bernstein Liebhard LLP, 10 East 40th Street, New York, New York 10016, 800-511-5092. Prior results do not guarantee or predict a similar outcome with respect to any future matter.
###
Contact Information:
Felecia L. Stern, Esq.
Bernstein Liebhard LLP
info (at)consumerinjurylawyers(dot)com
http://www.strykerhiprecallclaims.com/
https://plus.google.com/115936073311125306742?rel=author