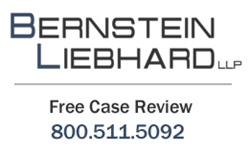 Our Firm is pleased to see the Stryker hip lawsuit litigation in New Jersey continuing to move forward.
New York, NY (PRWEB) April 19, 2014
Bernstein Liebhard LLP notes that a Stryker hip recall (http://www.strykerhiprecallclaims.com/) conference is scheduled to take place next month in New Jersey, where more than 950 cases have now been centralized in Bergen County Superior Court.
According to a calendar posted on the Court's website, the next Case Management Conference in the state proceeding has been slated for May 13, 2014 at 2:00 p.m., at which time the parties will discuss matters related to lawsuits over the now-recalled Stryker Rejuvenate and ABG II modular-neck hip stems. These hip replacements were taken off the market on July 6, 2012 after their metal components were shown to fret and corrode at the modular neck junction.
A Case List updated on April 2nd indicates that 954 cases have now been filed in the New Jersey Superior Court litigation on behalf of individuals who allegedly experienced pain, swelling, symptoms associated with metallosis and other adverse tissue reactions. (In Re Stryker Rejuvenate Hip Stem and the ABG II Modular Hip Stem Litigation, No. 296)
"Our Firm is pleased to see the Stryker hip lawsuit litigation in New Jersey continuing to move forward, as we hear from patients who allege premature device failure complications from the Rejuvenate and ABG II hip devices," says Bernstein Liebhard LLP, a nationwide law firm representing victims of defective drugs and medical devices. The Firm is currently offering free and confidential case evaluations to anyone who may have suffered early failure complications stemming from either of the hips.
Stryker Hip Recall Lawsuits
Court documents over the past several months indicate continued progress in New Jersey's consolidated Stryker recall litigation. Before the Court's most recent Case List update in April, records from February 25th show a total of 797 cases filed in the proceeding—an indication that over 150 additional Stryker hip recall lawsuits over the Rejuvenate and ABG II hip stems were filed in a month and a half.
All of these lawsuits were filed by plaintiffs who allege Stryker Orthopaedics' failure to adequately warn about side effects of its products prior to the July 2012 recall, which allegedly include their potential to fail early and require device removal and replacement surgery. Given the alleged risk for osteolysis, tissue necrosis, adverse local tissue reactions and other serious complications, claimants argue that the Rejuvenate and ABG II hip replacements were designed defectively by Stryker. Lawsuits against the company further allege that these complications may result in continued pain and disability, even after multiple revision surgeries.
In addition to Stryker hip recall claims filed in New Jersey, court documents indicate that hundreds of others are now pending in a federal multidistrict litigation established in the U.S. District Court, District of Minnesota. Court documents updated on April 15th show a total of 699 Rejuvenate and ABG II hip cases now filed in this proceeding. (In re: Stryker Rejuvenate and ABG II Hip Implant Products Liability Litigation, MDL No. 2441)
In the wake of 2012's Stryker recall, the manufacturer has advised on its website that all recipients of the Rejuvenate and ABG II implants seek routine blood testing and cross sectional imaging to monitor for signs that their hip could be failing, regardless of whether they are experiencing symptoms.*
Alleged victims of the Stryker hip recall are being urged by Bernstein Liebhard LLP to seek compensation for injuries they may have sustained as a result of the Rejuvenate and ABG II modular-neck hip stems. Learn more about Stryker hip lawsuits by visiting Bernstein Liebhard LLP's website, or by calling the Firm at 800-511-5092 to arrange for a free, no-obligation case review.
*literature.ortho.stryker.com/files/REJUV_COM_23.pdf
About Bernstein Liebhard LLP
Bernstein Liebhard LLP is a New York-based law firm exclusively representing injured persons in complex individual and class action lawsuits nationwide since 1993, including those who have been harmed by dangerous drugs, defective medical devices and consumer products. The firm has been named by The National Law Journal to the Plaintiffs' Hot List, recognizing the top plaintiffs firms in the country, for the past 12 consecutive years. Bernstein Liebhard LLP is the only firm in the country to be named to this prestigious list every year since the list was first published in 2003.
Bernstein Liebhard LLP
10 East 40th Street
New York, New York 10016
800-511-5092
ATTORNEY ADVERTISING. © 2014 Bernstein Liebhard LLP. The law firm responsible for this advertisement is Bernstein Liebhard LLP, 10 East 40th Street, New York, New York 10016, 800-511-5092. Prior results do not guarantee or predict a similar outcome with respect to any future matter.
Contact Information:
Felecia L. Stern, Esq.
Bernstein Liebhard LLP
info (at)consumerinjurylawyers(dot)com
http://www.strykerhiprecallclaims.com/
https://plus.google.com/115936073311125306742?rel=author