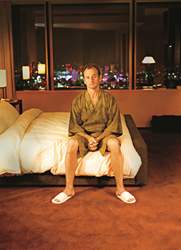 Rutherford, California (PRWEB) April 16, 2014
St. Supéry Estate Vineyards & Winery is excited to announce their partnership with Sofia Coppola and Cameo Cinema to raise funds in support of Valley Oak High School. This continuation high school in the Napa Valley Unified School District serves over 340 high school students each year who are on the verge of dropping out and need an intimate learning environment to make up credits to graduate. Valley Oak High School creates and maintains a safe and accommodating place for every student to pursue and achieve personal, academic and career goals.
On April 21, 2014 at Cameo Cinema in St. Helena, Sofia Coppola will present her Academy Award-winning film, Lost in Translation, in celebration of the tenth anniversary of the film's original release. Coppola's presentation begins promptly at 8:30 p.m. Tickets for guests are $50 per person. For those interested in supporting this fundraiser, but who are not able to attend the movie, there are options to purchase tickets for teachers at Valley Oak High School or to donate directly to Valley Oak High School. All proceeds go directly to Valley Oak High School in support of their effort to raise $10,000 to purchase computers for their classrooms. Ticketholders will be treated to wine from St. Supéry's Napa Valley estate portfolio and popcorn, in addition to the film and presentation by Sofia Coppola. Those interested in purchasing tickets can find them online here.
St. Supéry Estate Vineyards & Winery is honored to support the faculty and students of Valley Oak High School through the Adopt A School program. Launched more than a decade ago, the Napa County Adopt A School program seeks to engage Napa County businesses and organizations to support local schools and further enhance our children's educational experience. Business partnerships may include volunteering or mentoring in a school, technology assistance and subject matter expertise, or help organizing a school event. These partnerships are not only beneficial for the schools involved, but they are also a chance for business partners to increase community involvement, share ideas with students & educators and develop lasting relationships with the future of our community. To learn more about the Adopt A School program or to become an Adopt A School partner, please contact Karen Zimolzak at adoptaschool(at)napalearns(dot)org.