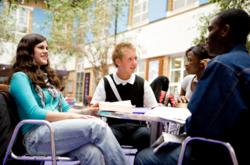 Washington, DC (PRWEB) January 22, 2013
The National Financial Educators Council proposes a proactive solution to the 1 trillion dollar student loan debt problem. The objective is to have students that are under 21 years old complete personal finance coursework prior to committing to federally backed student loan debt. Individuals that are concerned about the future of today's youth and how the student loan debt bubble is impacting the country are encouraged to sign the college personal finance petition.
The NFEC's plan tackles the student loan debt problem in three ways: through legislation, free market influence and a high-profile awareness campaign. The end goal is to add a stipulation to federally backed student loans that requires kids under 21 years old to pass a personal finance class.
The National Financial Educators Council has drafted legislation entitled the 'College Student Protection and Financial Education Act' to enlist politicians in the effort to proactively address this national crisis. This legislation proposes a preventive model similar to the Bankruptcy Abuse Prevention and Consumer Protection Act of 2005, which requires people to get budget counseling before they can file bankruptcy and financial education after they file.
To help influence the legislation, the NFEC has launched a petition website to gain support from concerned citizens across the United States. The goal is to get enough signatures to open doors and have the politicians put this as a top agenda item. Supporters can sign the college personal finance petition.
The NFEC is also reaching out to other organizations that are promoting student loan reform. "Our campaign is laser focused federally backed student loans and ensuring our kids – those under 21 years old – take a personal finance class before making a major financial decision. It is our objective to work with other organizations that are tackling this epidemic from other angles. Doing so I believe we can see major student loan reform in the next 5 years," states Vince Shorb of the NFEC.
The NFEC's campaign is focused on helping students avoid student loan debt, and supports other groups that address various aspects of the student loan debt problem. The Center for American Progress and Campus Progress are releasing a proposal for a "large-scale modification of existing student debt that will bring greater equity and protection to the student loan industry while at the same time easing the burden of repayment", according to an article by Julie Margetta Morga and Tobin Van Ostern.
The NFEC is a leading organization in advocating and raising awareness for the financial literacy movement. The NFEC is also committed to helping college bound students proactively avoid debt that often becomes a financial burden. From statewide and college campus-wide financial literacy campaign, to community workshops – the National Financial Educators Council provides turnkey solutions to organizations financial literacy initiative needs.