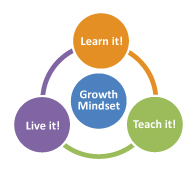 'Thought provoking', 'challenging' and 'stimulating' were words bouncing around the room.
Philadelphia, PA (PRWEB) March 24, 2012
Mindset Works announced today at the ASCD Annual Conference the availability of the Mindset Works® SchoolKit, a set of student motivation and achievement resources to foster a growth mindset in schools. Educators, students, and parents can now learn, teach, and live the growth mindset and benefit from more vibrant and successful student learning.
The growth mindset is the understanding that intelligence and abilities are not fixed, but can be developed. Research shows that having a growth mindset leads to higher student motivation, effort and achievement. Researchers and practitioners are finding that the growth mindset is a key to closing the achievement gap, increasing success for all students, and graduating lifelong learners. It can also help districts transition to a 21st century environment with more rigorous Common Core standards and a need for higher order critical thinking skills.
The Mindset Works SchoolKit includes a) growth mindset teacher professional development, b) the award-winning Brainology® interactive program, which teaches students a growth mindset and how to apply it to their schoolwork, and c) tools for administrators, teachers and students to use on an ongoing basis to deepen the growth mindset in their schools.
"The Mindset Works SchoolKit has created a highly effective model. Using technology, teachers not only learn about mindset, they have conversations' and are able to reflect on what they learned.", said Jill Osler, Staff Development Specialist at Doniphan-Trumbull Public Schools. "In order to fully embrace and encourage a growth mindset, I truly believe we have to continually immerse ourselves in it. And this project was a perfect way to do just that." Suzie Richards, Leadership Development Officer at Teach First, the UK organization modeled after Teach For America, said, "the enthusiasm and energy in the room following the group watching the first two modules was incredible. 'Thought provoking', 'challenging' and 'stimulating' were words bouncing around the room. The teachers felt that assessing their pupils' mindset, deploying mindset strategies including focusing on progress rather than achievement and promoting challenge that could lead to failure would help propel their pupils in their attainment, access and aspirations." LaNolia Omowanile, Principal of Brooklyn Prospect Charter School, added, "Providing our teachers training has helped to undo the negative beliefs and practices around intelligence that existed in our school and allowed us to develop a common set of practices that are aligned with developing the growth mindset."
The Mindset Works SchoolKit was the first social/behavioral program funded by the U.S. Department of Education's Institute of Education Sciences Small Business Innovative Research (SBIR) Fast-Track program. It has now been piloted in schools across 9 states and will become publicly available on August 1st for the start of the 2012-13 school year. Mindset Works is showcasing the new offering March 24-26 at the 2012 ASCD Annual Conference in Philadelphia.
Schools and districts interested in learning more can visit http://www.mindsetworks.com/mindset-school or contact Mindset Works at 888.344.6463 or info(at)mindsetworks(dot)com.
About Mindset Works, Inc.
Mindset Works unlocks human potential by equipping people with the growth mindset, the core belief that abilities and intelligence can be developed. It was co-founded by one of the world's leading researchers in the field of motivation, Stanford University professor Carol S. Dweck, Ph.D. and K-12 mindset expert Lisa S. Blackwell, Ph.D. The Company translates psychological research into practical products and services to help students and educators increase their motivation and achievement.
Mindset Works and Brainology are registered trademarks of Mindset Works, Inc.
Available Topic Expert(s):
Carol Dweck
Lisa Blackwell
Eduardo Briceño
For additional information or to set up an interview with a Mindset Topic Expert, please contact
Liz Cohen of Mindset Works, 1-650-273-5717, ext. 987, lizc(at)mindsetworks(dot)com
###