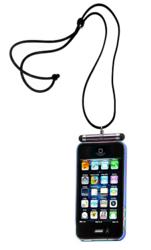 iHangy
Dallas, TX (PRWEB) April 12, 2012
iPhone/iPod-loving college students who wish they could earn some real-world credit for showing off their Apple savvy around campus are about to be presented with just such an opportunity. iHangy, an offshoot of mobile phone battery and accessory manufacturer OnTrion, has just announced that applications are now open for its new Student Ambassador program. College students from anywhere in the world who want to boost their resumes while scoring free iPhone/iPod accessories are welcome to apply for the role at http://www.ihangy.com.
According to "The Chronicle for Higher Education" Student Ambassador programs have become the newest trend on campus, and technology companies in particular are fueling this frenzy. The ideal ambassadors are typically "computer-science or marketing majors who help spread the word about new software on campuses in exchange for small stipends or just free T-shirts," or other swag, like cool iPhone and iPod accessories in the case of the iHangy Student Ambassador program. All of this is in exchange for conjuring up excitement among their friends and peers over the latest high-tech gadgets.
The fun party-on-campus connotation may be the initial allure into the iHangy Student Ambassador program, but there's also a more serious side to taking on the role, one that will serve college students well long after they graduate. From the big-picture perspective, it's these longer-term perks student ambassadors will derive the most benefit from. The current crop of ambassadors cite assistance in landing a job and the resume boost holding such a position affords them as secondary, yet important, draws.
Google and Microsoft laid the foundation for the Student Ambassador craze, but up-and-coming tech companies are quickly joining the fold. iHangy, a division of mobile phone battery and accessory manufacturer OnTrion, is the latest to launch a Student Ambassador program. Their mission in doing so is to introduce the iHangy iPhone/iPod necklaces and keychains to college coeds and win over their hearts and minds in the process.
"We are actively seeking Student Ambassadors from all around the world," explains iHangy spokesperson Palki Kochar. "We are specifically looking for individuals with technology, business and media savvy who are socially oriented and interested in gaining more knowledge in our technology products."
For more information on how to apply to the iHangy Student Ambassador program, visit http://www.ihangy.com on the Web. Additional details about the iHangy iPhone/iPod swag that comes with the ambassador role can be found online at http://www.ontrion.com.
CONTACT INFORMATION:
Palki Kochar
13650, TI Blvd., Suite #309
Dallas, TX 75243
(877)676-0877
http://www.ihangy.com