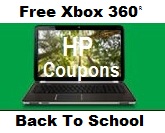 Student can save money by taking advantage of attractive 'Back To School' offers presented on this discount page.
(PRWEB) July 18, 2012
Recently, the special student laptop coupons page on Bizwaremagic.com, was updated to reflect new "Back To School" offers from Dell and Hewlett-Packard. This newly updated page is dedicated to explaining the whole concept of student notebooks, while offering special online coupons and bargains for the high school or college student.
This updated content is located on Bizwaremagic.com, a marketing site which offers free guides on numerous topics, including a very comprehensive online computer notebook buyer's guide. Providing helpful and valuable information to future laptop buyers is the main goal of this guide.
Two special offers featured on this page will certainly be of interest to anyone hitting the books this fall. HP is offering a free Xbox 360 with the purchase of any qualifying PC for $699 or more - this can be a laptop or a desktop PC. And Dell is offering its own Back to School Guide, which features all of their latest products, electronics and accessories for the student.
"These companies fully realize the lucrative nature of this Back To School market," says Titus Hoskins, a former teacher who now runs Bizwaremagic. "Offering attractive discounts and coupons is one way of capturing a large portion of these potential customers."
For the most part, student laptops have to be compact, portable, quiet, sturdy... while offering high performance with long battery life. With the introduction of tablets, such as the Apple iPad, this market has seen some great additions in recent years, especially when you consider the new Ultrabooks and Ultralites sporting Intel's New 3rd Generation Core (Ivy Bridge) processors. Now more than ever, students have a wide range of choices when it comes to choosing that perfect student laptop.
This special student laptop coupons page can be found here:http://www.bizwaremagic.com/notebook_for_students.htm or download our comprehensive free laptop buying guide here: http://www.laptopcomputerguide.org All products/companies mentioned above are registered trademarks of their respective owners and companies.