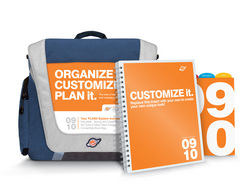 Today's kids are overwhelmed with school papers and assignments, but they aren't taught how to manage them.
West Des Moines, Iowa (Vocus) March 11, 2010
When a smart kid is struggling in school, it's tough to understand why — let alone figure out how to change it. The new School PLANit system focuses on one of the underlying reasons why many students fail to get the grades they deserve: a lack of organizational skills. Designed by parents and tested in schools, School PLANit is targeted at elementary and middle school-age students, although any student can benefit from using the system.
"Today's kids are overwhelmed with school papers and assignments, but they aren't taught how to manage them," says School PLANit president, Liz Rowen. "Between the overstuffed backpacks and messy lockers, kids lose track of their homework, and that eventually impacts grades. Nobody's born with organizational skills — they have to be learned — and School PLANit helps teach them."
School PLANit gives kids a consistent way to keep track of homework, so they can find everything easily. The system is customizable to fit each individual student and consists of a daily planner, color-coded subject folders, a custom-designed bag and parent/student instructions. Students note their assignments in the planner throughout the day and place new homework in the "TO DO" pocket. Parents review the contents of the bag with their child at night, and send completed homework back to school in the "TURN IN" pocket. All other papers and notes go in the subject folders for reference and are cleared out when a unit is finished.
Although the system gives students the tools to get organized, Rowen emphasizes that it requires parent reinforcement to be effective. In fact, the planner includes a parent/teacher communication area that can be checked and initialed each day until the student makes the system a habit. Parents also need to help students clear out papers that are no longer needed.
According to Rowen, School PLANit serves an unanswered need for time-crunched working parents and kids with organizational challenges. "When a child is struggling with staying on task — whether it's because of ADHD, other learning disabilities or just lack of organization — searching for papers and supplies is just one more thing to worry about," she says. "We've found that giving kids the tools to keep track of their homework reduces stress and anxiety, which can have a positive effect on their self-esteem."
The idea for School PLANit started when Rowen's own ninth-grade son was having trouble with misplaced assignments. The system she and her husband created to help him keep track of homework opened up his world. In one semester, he raised his grades dramatically and went from needing help every night to completing every assignment on his own. The system worked so well, his teachers and other parents started asking about it. Rowen and her husband began making prototypes for other kids, but they still wanted to do more. That's when she decided to champion organizational skills on a larger scale and formed School PLANit. In 2008, the company donated more than 250 prototype organizer systems to students at a local elementary school.
Teachers tracked student progress throughout the school year and gave their feedback on the product. "The school surveys gave us a lot of great input," Rowen says. "We heard that School PLANit helped improve students' attitude toward school and learning, decreased the number of lost assignments, and increased communication between teachers and students." Overall standardized test scores also increased in classes that used the system consistently. "We wanted to test the system before going into full production," Rowen adds. "School PLANit is the product of what we've learned from teachers, parents and students."
The 2010-11 School PLANit system, including the daily planner, folders, bag and instructions, is available for $69 at http://www.schoolplanit.com. Pre-orders placed before March 31, 2010, will receive a $10 discount. The bag is available in blue or pink and can be configured as a backpack, messenger bag or briefcase. In addition, clear-plastic areas allow kids to personalize the bag and the planner cover by inserting their own design. Printable designs and organizational tips are available on the Web site, and Rowen plans to continue adding to the online tools. "It's not about selling products; we just want to help kids succeed," she says.
About School PLANit
School PLANit is a parent-created, student-tested organizational system designed to help kids keep track of homework assignments. The company is based in West Des Moines, Iowa. More information is available at http://www.schoolplanit.com.
###