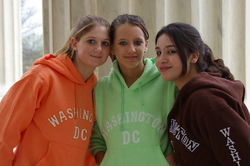 The One Nation Under God Tour is an excellent educational travel opportunity for personal reflection, appreciation and growth
Lapeer, MI (PRWEB) February 26, 2009
Travel Adventures, the Lapeer-based student tour provider, has introduced an exclusive One Nation Under God tour of Washington, DC. The educational travel opportunity combines stops at all of the historic Washington DC venues with visits to religious sites so that students can embrace their religion while exploring our Nation's capital.
"The One Nation Under God Tour is an excellent educational travel opportunity for personal reflection, appreciation and growth"
John Krish, General Manager - Travel Adventures
Touring groups from around the country will receive a custom itinerary designed to match their specific needs that may include visits to the Lincoln, Jefferson, Roosevelt, Vietnam, Korean, WW II, and Iwo Jima Memorials; as well as the Smithsonian Institution Museums, Arlington National Cemetery, and the Washington Monument
In addition, the travel itineraries for student groups will provide visits to historic religious sites of the teacher's choice such as:

Washington National Cathedral - The Cathedral is a spiritual resource for our nation: a great and beautiful edifice in the city of Washington, an indispensible ministry for people of all faiths and perspectives, and a sacred place for our country in times of celebration, crisis, and sorrow.
Basilica of the National Shrine of the Immaculate Conception - Students will experience the largest Roman Catholic Church in North America and one of the ten largest churches in the world. Guided tours of the Basilica are available and Mass is held six times daily. It is also possible to arrange for choral groups to perform at the Cathedral.
Pope John Paul II Cultural Center - Students will be given the opportunity to reflect on faith as well as explore the Catholic Church and its role in history and society through interactive galleries. They can even leave their own message through audio or video recordings, in writing or by creating a computerized drawing, thus themselves becoming part of the Cultural Center's ever-evolving exhibits.
•Franciscan Monastery Commissariat of the Holy Land of America - Designated as a historic site in 1991, the monastery has been a place of worship and pilgrimage for thousands of visitors since the church's dedication in 1899. Tours of the monastery and shrines are available daily; tours include a visit to the catacombs.
Visits to area college campuses may also be arranged for student groups during this educational travel experience
In addition to the One Nation Under God Tour, Travel Adventures takes thousands of students on traditional Washington, DC tours each year.
Teachers may select from a variety of other outstanding educational travel experiences for their students. Groups may select educational travel itineraries in the most popular destinations such as New York City, Chicago, or Walt Disney World® Resort, or be a part of the Travel Adventures exclusive Modern Civil Rights Experience which takes students on a journey through Memphis, Birmingham, Montgomery and Selma.
About Travel Adventures
Travel Adventures is a student tour provider staffed by educators who understand the needs of teachers. It has served over one half million students since 1987 and its mission is to empower teachers to create change by expanding the classroom to the world. To discover more about Travel Adventures and its many educational programs, visit traveladventures.com
###