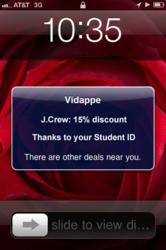 Los Angeles, CA (PRWEB) September 30, 2011
Vidappe, a location-based discount app, partners with the Student Savings Club to alert all university and college students of the free discounts they can use thanks to their student IDs. Get close to a discount, get an alert through the app – "10% off at Al's Beef a block away thanks to your student ID."
The Student Savings Club is one of the leading providers of discount buying services to colleges and universities around the country. The Student Savings Club puts together lists of local discounts that students at different universities can use in their respective towns – all a student has to do is show his student ID and save. Vidappe acts as the Student Savings Club's mobile counterpart – whatever local discounts the Student Savings Club makes available will be seen in Vidappe. Ohio State University student discounts in Columbus, OH, University of Wisconsin student discounts in Oshkosh, WI, and everything in-between can be found in the app.
In addition to the Student Savings Club discounts, Vidappe also stores the nationwide student discounts that people can use everyday. Upscale apparel stores like J.Crew, Banana Republic, Rugby Ralph Lauren, and more allow students and teachers to save up to 20% just by showing their school IDs. Fitness gyms like CorePower Yoga and 24 Hour Fitness offer savings on class packs. Restaurants like Chipotle, Subway, and Buffalo Wild Wings offer 10% discounts, free drinks, and more.
Vidappe has stored all these discounts offered within the app and will send the user an alert when he gets physically close to one. A user would subscribe to whatever organization school he's associated with, and will never again miss out on a perk because Vidappe will do the "remembering" for him. Since it's inception 3.5 months ago, Vidappe has grown to over 1,500 users and will only continue to expand in programs and users. Vidappe is a convenient, simple, tool that will not only remember everything for the user but will make saving money virtually effortless.
###