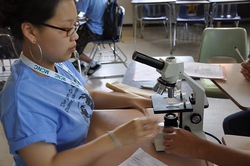 Many of our country's future environmental leaders were born in this conference
New York City (Vocus) May 25, 2010
After eight months of on-line and local exploration, students from 22 Middle College National Consortium (MCNC) High Schools (see sidebar) arrived in Greenville, South Carolina. Their goal: to engage in dialogue about their own research and explore what an up-and-coming, environmentally progressive, community is doing about water. MCNC's annual Student Leadership Initiative was held from April 28 to May 1, and focused on Our Water, Our Responsibility: How Can We Preserve and Protect The Natural Resource That Gives Us Life? This Student Leadership Initiative was hosted by Greenville, South Carolina's partner Middle College High Schools: Greenville Technical Charter High School, Greer Middle College High School and Brashier Middle College Charter High School, in association with Greenville Technical College.
Each of the host schools had opportunities to demonstrate their hospitality and their specialties. Greenville Technical Charter HS Social Studies and Art teacher, Cleo Crank, led students in a watercolor art project that combined poetry, painting and collaboration. Students also got to experience the difficulties desert communities endure just to get enough water for survival; to explore pond water with a microscope; to identify microbes and organisms within the pond; and to debate the issues local fishermen are facing. Brashier Middle College Charter High School, where technology is in abundance, provided a canvas where students made original video slideshows to illustrate Water Quotes from literature and current events.
Saturday was the culmination of the MCNC Student Leadership Initiative. It started with everyone participating in the annual H.O.G. Day Cleanup (Hands on Greenville) where MCNC students collected considerable amounts of trash along the Reedy River. Finally, the highlight of the conference was when each school made presentations of their local water projects. From Robert F. Wagner Jr. High School's campaign to bring together teens on October 10, 2010 to make "Water Is Totally Free" (http://www.wateristotallyfree.org), to children's books written by the students at Hollis F. Price Early College HS, the passion and intellectual engagement of these students shone through. Students from SW Memphis Early College HS created a documentary illustrating how the Mississippi is the lifeblood of their city; and recent immigrants from the International High School at LaGuardia Community College shared a video about their efforts to remedy pollution at Newtown Creek, a potential Superfund site.
Terry Born, the MCNC's Student Leadership Initiative project director stated that, "Many of our country's future environmental leaders were born in this conference". "It was refreshing to see the idealism and dedication that these students showed towards cleaning up our rivers".
The Middle College National Consortium, headquartered in New York City, is a leader in the movement to establish and sustain dual enrollment, high school and college, as a viable and necessary educational model. Middle College National Consortium's mission is to develop small schools in which high school students, especially those who have been previously underserved by their former schools, can earn both a high school diploma and either an Associate's Degree or transferable college credits upon graduation.
To learn more about the Middle College National Consortium, visit us at (http://www.mcnc.us/) for a comprehensive overview of the history, design principles, current work and achievements.
Contact information
Tony Hoffmann
Middle College National Consortium
http://mcnc.us
718-361-1981
thoffmann(at)mcnc(dot)us
###