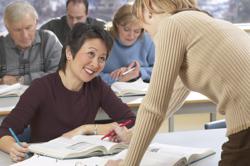 "My hope is that "Personality-College Major Match and Student Success" will help professionals and college administrators apply recent research to increase college students' success," says Dr. Lawrence K. Jones, NCC
Portland, Oregon (PRWEB) November 03, 2011
Large research studies link success in college and career satisfaction to choosing a college major that fits one's personality. Career Key®'s new white paper, "Personality-College Major Match and Student Success" summarizes the research and recommends ways counselors and other academic advising professionals can use it to help people choose a major in which they are likely to progress and grow. It includes important but less publicized research involving Holland college major environments.
The new white paper is free of charge -- along with other reports for professionals, college major and career advice articles, and free e-books for the public -- at The Career Key website, http://www.careerkey.org.
In addition to helping counselors and academic advisors, "Personality-College Major Match" will help college admissions officers, student retention specialists and education policymakers. Based on the respected Holland's Theory of Career Choice, the paper emphasizes the theory's application to college student success – grades earned, persistence in major, and timely graduation.
Written by nationally recognized counseling psychologist and Career Key author, Dr. Lawrence K. Jones, NCC, the 28-page white paper covers:
1. The relationship between personality-college major match and college success (higher GPA, greater persistence, more timely graduation);
2. Research on how Holland's Theory predicts faculty attitudes and behavior and the effects on students (Holland academic environments);
3. An incongruent college major as a rational choice; and
4. Fifteen recommendations on how to apply the research to strengthen counseling and faculty advising, and increase student success.
"My hope is that "Personality-College Major Match and Student Success" will help professionals and college administrators apply recent research to increase college students' success," says Dr. Jones. "The stakes are high in this challenging economic environment, both for colleges and students."
About The Career Key®
Since 1997, Career Key has been the #1 Internet source for helping people choose careers and college majors. Advertising and registration-free, it offers a valid career test, information, and advice articles based on the best practices and science in the field.
# # #