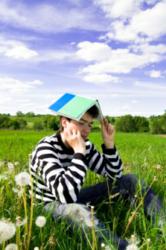 We've reached a critical crossroads, I think most of us can sense it.
Lake Country, B.C. (PRWEB) January 06, 2012
Dismissive cultural attitudes toward students with disabilities represent just the tip of a titanic iceberg that threatens to keep America from attaining its full potential. That's one of the main ideas behind a new manifesto introduced by the education blog No More Frozen Students, the official blog of Trade-Schools.net. The post has attracted attention from those within the Occupy Education movement, and its author, Luke Redd, is determined to spread its message further.
Redd said he was inspired to write the manifesto after realizing that the difficulties experienced by learning-disabled students may point to a problem that runs much deeper than anyone is willing to admit. In his view, we are all participants.
He believes that the common practice of labeling other people based on any kind of perceived difference too often results in the subconscious permission to dehumanize them, which can lead to behavior that is unnecessarily competitive, or worse.
Last month in Cleveland, for instance, a 15-year-old boy missed his bus and was brutally beaten and called "retarded" by a group of young people outside his school. It wasn't the first time he'd been assaulted. The student, Shaquele Bass, has a pronounced learning disability. Prior to the latest attack, his mother tried repeatedly to get his school to do something about the harassment, to no avail.
Redd acknowledges that this incident is an extreme and isolated example, but he feels it illustrates the wider societal problem well.
In his manifesto, he points to the fact that human civilization has been made richer from the contributions of numerous people who had dyslexia or were thought to have had other learning disabilities. He cites Leonardo Da Vinci, Albert Einstein, Thomas Edison, and Pablo Picasso as just a few of the most prominent examples from our history of people whose brilliance might have gone unrecognized.
"We've reached a critical crossroads," Redd said. "I think most of us can sense it. Yet, at a time when we need to cooperate for our survival, it seems that we are more determined than ever to ignore, judge, and even demonize each other because of our differences. It's become a form of entertainment. We've bought into the practice of classifying human beings as either normal or abnormal. The very fact that we label anyone as 'disabled' should clue us in. We've turned our magnificent diversity into a weakness rather than embracing it as a strength that we can learn from and utilize in an effort to build a better nation and a better world."
Redd's manifesto challenges readers to add to it, to question its ideas, to be part of the solution, and to think big.
"It isn't just stuff like learning-disabled students and the transition issues they face when entering college that should be on our radar," he said. "For sure, more and more colleges for students with learning disabilities are popping up, and that kind of progress is great. It really is. I just fear that, as individuals and as a collective society, we are missing the bigger picture. We are all impacted."
Redd's post, "'Disabled' Students and Forgotten Frontiers: A Manifesto for All of Us,"is one that he hopes will inspire everyone to think and act a little differently.
About No More Frozen Students
As the official blog of Trade-Schools.net, No More Frozen Students helps people make sense of the intersections between college, career, and life. The contributing authors of No More Frozen Students comment on education-related happenings and leverage personal experience and quality research to shed light on a wide range of relevant topics. Trade-Schools.net is a leading online education portal that matches students with post-secondary schools and useful career information. It is owned and maintained by Beelineweb.com.
###