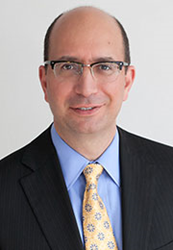 I hope that the law students benefitted from my own trial experience, as I know I did when I participated in similar programs when I was in law school.
New York, NY (PRWEB) March 18, 2016
Attorney and trial advocacy instructor Andrew Barovick recently volunteered to be one of several scoring judges for the first qualifying round of the 2016 New York Regional National Student Trial Advocacy Competition (STAC), sponsored on a national scale by the American Association for Justice (AAJ). The purpose of the competition is to provide trial advocacy training to law students. STAC teams present evidence and argue their cases before volunteer judges, such as Barovick.
"Being a scoring judge at this important competition for future lawyers left me feeling that I contributed something valuable to the profession on a pro bono basis," said Barovick. "I hope that the law students benefitted from my own trial experience, as I know I did when I participated in similar programs when I was in law school."
Barovick's role, as he wrote in a recent blog entitled "Going Back to School for an Afternoon was Good for Me," was twofold: he was to act as a juror, but to also score the students on each major task. It was a Dram Shop Act case, in which bars can be held liable for injuries to a third party that stem from the intoxication of an individual served by the bar. The plaintiff was the young person injured when a patron of the bar crashed his car into hers. The defendant was the bar. One school represented the plaintiff, and the other represented the defendant. Each team made an opening statement, did a direct exam of its lay witness and expert witness, crossed their opponent's lay witness and expert witness and delivered summations.
"I had to grade each team's attorney on each task performed, on a scale of 1-10, and monitor the time of the side to which I was assigned (the defendant) as each team had 80 minutes in total to present its case," said Barovick. "I think it is important because making the leap from classroom to courtroom provokes a lot of anxiety, and any experience that provides law students with a preview of courtroom practice is very valuable, and hopefully educational."
About Andrew Barovick, Alegria & Barovick LLP
Attorney Andrew Barovick focuses his practice on medical malpractice. He is also the creator and principal author of The New York Medical Malpractice Law Blog and The New York Social Security Disability blog. Alegria & Barovick is a New York litigation firm devoted to medical malpractice, personal injury and Social Security Disability law. For more information, please call (914) 761-1133 or visit Attorney Andrew Barovick's Facebook page.
About the NALA™
The NALA offers small and medium-sized businesses effective ways to reach customers in the digital age, while providing a single-agency source that helps them flourish in their local community. The NALA offers its clients an array of marketing tools from press release campaigns and social media management to a cause marketing program. The NALA's mission is to make businesses relevant and newsworthy, both online and through traditional media, by providing increased exposure at reasonable costs. For media inquiries, please call 805.650.6121, ext. 361.