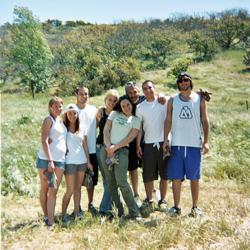 Innovations like this are at the heart of the Sober College experience
Woodland Hills, CA (PRWEB) April 20, 2011
The development of this CORE Program, by staff member Shane Coyle, has given students a multitude of chances to give back to the community and get class credit. "Innovations like this are at the heart of the Sober College experience," according to founder Robert Pfeifer, "Anytime we can take traditional treatment related activities, like service commitments, and combine that with an opportunity to gain credits … that is what we are all about."
Last month, Sober College began teaching a Health and Wellness course through their existing partnership with Woodbury University. Taught by Dr. Ken Niemann, the class features an innovative curriculum incorporating individual fitness, volunteerism, service work and the development of personal mission statements. Students in the Health and Wellness Class are required to participate in different community service projects. Coyle shared, "I believe that volunteer work provides students with opportunity to experience the joy involved with selfless acts. Volunteering helps students to develop life skills, build self esteem, and enhance emotional awareness."
The Health and Wellness class also provides an opportunity for students to explore various career paths. Dr. Niemann shares, "Volunteer work exposes students to many different aspects of life that they otherwise might not experience. This can help them choose a career path or find something that they are passionate about." Several students echoed Niemann's sentiments. According to Max S., a former student, "I was not looking forward to the beach clean with Heal the Bay, but it changed my life. Because of that experience, I'm now looking into studying marine biology."
The CORE Program and volunteer work not only helps students to gain class credit, but also relieves stress. Being of service to others is incredibly beneficial to young adults in early recovery. It can lower stress levels and provide them with a sense of empowerment. This is critical for young adults in early sobriety who need stress management skills.
Sober College has already begun by reading to kids at local schools, playing regular concerts at the Woodland Care Center for the Elderly, helping the Heal The Bay Foundation, Habitat for Humanity, Tree People, and helping at the Los Angeles Food Bank. Sober College has found that many different organizations throughout Los Angeles have been willing and excited about the help. The feelings of gratitude are mutual. Angela T., a student explained, "Helping at the elderly house and reading to the little kids were my favorite volunteer projects." While Brandon P., another student, said, "helping clean the beach with Heal the Bay was life changing for me." And both of them remarked, "I can't believe this is part of my grade. I am extremely blessed and fortunate to have this experience and it really helps my recovery."
About Sober College:
Sober College, headquartered in Southern California, is a small private institution providing alcohol and drug treatment environments for young adults age 17 to 25. The Sober College curriculum builds core competencies in life skills, employment, academics, emotional well-being and fitness. For further information visit our website at http://www.sobercollege.com or call 800-465-0142.
Contact Information:
Phone: 818-415-3456
Fax: 818-274-0309
E-Mail: robert.pfeifer(at)sobercollege(dot)com
Address: 6233 Variel Ave, Woodland Hills, CA 91367
# # #