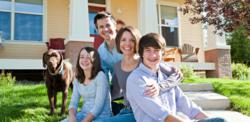 Red Blue Realty ensures you are fully informed every step of the way. That's our promise.
Studio City, Ca (PRWEB) September 10, 2012
Buying Studio City real estate is a big decision, but for many people it's the right decision. With interest rates lower than ever, now is the time to invest in a home. However, before one even thinks about searching through listings or checking out an open house, it's crucial that they have already taken the following 3 steps.
1) Ensure that Finances are in Order
The first step that every would-be buyer should take is to ensure that they can even afford a home. After all, lenders will only offer a mortgage to those with an acceptable income, job history, and credit score. But what is acceptable? Well, while the exact requirements vary from institution to institution, there are some unifying themes when it comes to financing one of the many Studio City homes for sale.
Let's say, for example, that John Doe wants to buy a home, but he has an inconsistent stream of income coupled with a spotty employment history. Most lenders will refuse to fund such a loan because they would not be confident that Doe will be able to make his monthly mortgage payments. It's simply too risky.
Another way that lenders can determine Doe's ability to pay back the loan is by his credit history and score. While some government-related loans will allow for a credit score as low as 620, most conventional loans require a credit score of at least 650. When considering Studio City real estate, just keep in mind that lower credit scores tend to result in higher interest rates because the lender believes it is taking a higher risk with the loan.
2) Find the Right Real Estate Agent
The home buying process can be tricky, even for veterans. That's why it's crucial that first-time home buyers have the guidance and support of a professional real estate agent.
When searching for a real estate agent, be on the lookout for someone with experience and integrity. An experienced, knowledgeable, and trustworthy agent can make all the difference in this process by saving the buyer's time, money and energy. With so many different Studio City homes for sale, the right real estate agent will also help to ensure that the buyer finds the perfect home.
3) Pre-Approval and Mortgage Shopping
After finding the right agent, ask them to recommend a good mortgage broker. Next, it's time to get pre-approved, which can qualify the buyer for different types of loans as well as give them advantages in the bidding process. Pre-approval typically requires basic financial information such as monthly expenses, pay stubs, bank statements, and so on.
With that out of the way, the buyer is ready to find the right financing option that suits them best. Shopping for the right home loan might feel overwhelming at first, but with the help of Studio City real estate professionals, it's not too bad.
First, there is the standard of the industry -- the conventional loan. Offered by private lenders, conventional loans typically require a down payment of 5-20%. Another option that first-time buyers should consider is an FHA loan, which can require a down payment as low as 3.5%!
No matter which financing method a buyer ends up with, they should just make sure to shop around long enough to find the best interest rate, because even one quarter of a percent difference can save tens of thousands of dollars over the life of the loan.
After taking these 3 steps, the buyer is officially ready to begin their home search! Red Blue Realty works with credit agencies, lenders, and mortgage brokers to ensure that our clients get the best deals around. To learn more, contact Red Blue Realty today for the perfect Studio City real estate agent!
Website: RedBlueRealty.com
Email: Contact@redbluerealty.com
Phone Number: 1 - (855) 66-RBREALTY or 1- (855) 667-2732
Get social with Red Blue Realty on Facebook and Twitter!