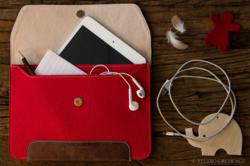 On the occasion of Independence Day, Studio Credence offers a discount of 5% (Code: 4july) on all iPhone and iPad covers & Cases
(PRWEB) June 26, 2013
The most important day in the American History, 4th of July, is marked by patriotic displays all over the country. Parades, fireworks, family barbeques, picnics, baseball games, speeches and a whole lot of other events add to the feeling of patriotism and unity of being a citizen of the USA. Here is the chance to do an additional something this Independence Day – Gift self or a loved one something that would be cherished and prided, just like the occasion. A genuine leather cover, handcrafted with precision for iPad, iPad Mini or iPhone 4/5 would be an ideal gift. Studio Credence brings forth an elite range of covers and cases for iPad, iPad Mini, iPhone 4/4s and iPhone 5. And what's more? On the occasion of Independence Day, Studio Credence offers a discount of 5% (Code: 4july) on all these exquisite covers. So just grab this deal and snuggle up the doodad in a whole new look.
These covers are designed by considering the mindset of the customer, who would want a protection for their device whilst keeping the elite look intact. Best quality of Merino wools and hand beaten leather are used in the manufacturing of these exquisite pieces. The designs have been sketched out in a manner where utility is not compromised but enhanced. The iPad and iPad Mini Case are available in three looks – the hard bound book case, messenger bag with a satchel and sleeve bag with an extra pocket. For iPhone covers two looks are made available– sleek wallet case and strap wallet case. Both of these covers have additional pockets to easily carry real money or plastic.
Studio Credence is a well-known reputable company reckoned for its quality products and prompt customer service. The assured and timely delivery has been always a practice at Studio Credence. The Company has been crafting fine leather covers that have created a niche in this dynamic market of covers and cases. This is primarily due to the quality of products that are an output of meticulous detailing and consistency in the elaborate procedures.
Get cracking and avail the 5% discount (Code: 4july) on all products this Independence Day!