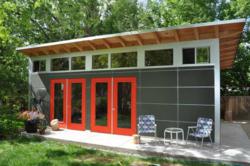 We loved the look, the fact that it was prefab., the price was totally right and it was a local company. - Barb Nienhouse
Boulder, CO (PRWEB) June 16, 2011
Studio Shed recently completed installation of three inspiring sheds (studio garage, art studio, studio shed) in Boulder, Colorado, home of the three year old company dedicated to reinventing traditional backyard structures.
NIENHOUSE STUDIO SHED: 14' x 26', slate grey Collins siding, 2-metal trim red French doors with double pane Low-E glass, 3' x 3' operable window, operable celestory windows, accent lighting at each door, white garage door, cement foundation.
Barb and Eric Nienhouse's week-long mission trip to Juarez, Mexico in 2007 with Casas Por Cristo (casasporcristso.org), where they built a 400 sq. ft. house divided into three rooms for a family of eight, reinforced their decision to continue living simply and on a small scale. With two boys, Jacob (10) and Oscar (6), the family had long outgrown their 1960's ranch style starter home with no garage and yearned for storage space to accommodate their hobbies and recreational toys. They weighed the options of building an addition but ran into a plethora of city permitting issues and local builders discouraged them from building a detached space. They felt a prefabricated structure would be great but found the options advertised in their favorite modern design publication were cost prohibitive when it came to materials and shipping.
Then, one day while walking through a local eco design store, Barb came across some information on Studio Shed. She and Eric consulted with Mike Koenig, Studio Shed co-founder, and explored the possibilities of a detached space. They loved the look, the fact that it was prefab. The price was totally right and it was a local company. They loved everything about Studio Shed.
They decided to build an aesthetically pleasing, detached Studio Shed for utilitarian purposes: a place to store things, a place to work on hobbies without having to put them away every night, a place to sit and watch the kids playing in the back yard, and lastly, a structure with a garage door for resale purposes.
Today, the Nienhouse family continues on their path to live simply. Their mission isn't fueled by a need to save the environment. It's fed by the experienced reality that it's easier to live with less. They have one car that keeps them disciplined. If they need a second, they rent from Enterprise (although they do have their eye on a Stella Scooter with a side car).
Barb is a stay-at-home mom with a degree in Art and Psychology with a ceramics emphasis. Silversmithing is in her future. Eric is a software engineer for NCAR. They also support the Conservation Fund whose mission is to preserve and protect the land.
FITZGERRELL STUDIO SHED, 12' x 24', Collins siding, French doors with double pane glass, one vertical and one horizontal celestory window set with operable panel, floating foundation.
Brian and Kristin FitzGerrell renovated a 1957 ranch-style home 5 years ago. Kristin FitzGerrell, a Boulder native with a English Degree, an urban studies semester in Chicago, and a Masters in Design from Pratt University, needed a wood-shop studio where she could design and build wood assemblages for her thriving art business, Studio 22 (http://www.studio22art.com). They loved that Studio Shed was the 'shed' version of their contemporary house and with the exposed eaves and contemporary lines. It was the obvious perfect fit.
Kristin's new Studio22 Shed provides the laboratory work space for Kristin to bend, cut, twist, paint, bolt, sand and sift through the various treasures collected along her way.
CURLETTE STUDIO SHED: 10' X 12', Collins and metal siding, canary yellow metal door with deadbolt, vertical and horizontal celestory windows, cement foundation.
Diane Curlette, a native Coloradoan retired from a 30-year career with the government, spends her time gardening and landscaping. She's also a member of the Boulder Garden Club, a local non-profit that takes on civic projects for a variety of organizations such as Meal on Wheels, Senior Center, and the local jail and cemetery.
Diane was looking for a structure, other then a Tuff Shed, to store her gardening tools and overflow from her in-house storage. She learned about Studio Shed through the local eco home store. While reviewing Studio Shed's website gallery, she noticed how "airy and pretty to look at" the product was. She began feeling confidant about making a purchase so she called Mike to discuss options in relation to her needs.
Diane is very excited to have this gem in her back yard. "My Studio Shed looks like it's suppose to and functions like it should and I appreciate the customized operable windows and vents in the rear!"
To complement her home, which is light green with dark olive trim, Diane decided to treat herself to a bright spot of color for the door. The bright yellow will be fun for her to see in the middle of winter when it's surrounded by a blanket of snow.
Diane is an advocate for women in need and also supports Boulder Valley Women's Health.
Studio Shed's production facility is 100% solar-powered and every Studio Shed customer installation features a variety of green building materials; Studio Shed's dimensional lumber and Collins siding panels are FSC-certified, the aluminum-frame windows and metal siding are recyclable, all surfaces are Low-VOC paint, and the prefabricated structure is engineered with absolute minimum waste.
STUDIO SHED® - an innovative take on traditional backyard fixtures, More than just a shed – it's an extension of your home with a variety of uses: an office shed an art studio, a kid's playroom, or simply a place to store a mountain bike.
###