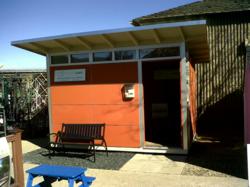 Having a sustainably-built shed with a wonderful design in our beautiful garden is a joy for all. It's wonderful to be a part of a community that takes care of each other. Ramona Clark, ED, Growing Gardens
Boulder, CO (PRWEB) May 12, 2011
This past winter, Studio Shed - specializing in aesthetically pleasing, multifaceted backyard spaces - approached Boulder County's Growing Gardens to explore the possibilities of a long-term relationship that directly supports Cultiva! which is Growing Garden's youth-operated organic garden project dedicated to fostering a connection to the environment through sustainable agriculture.
Studio Shed's philosophy – living smarter rather than larger - shapes and sustains their relationships with employees, the community and customers. "Cultiva!'s philosophy is to create positive change for the community, the environment, and youth. With a similar purpose, we'll work together to reduce our footprint and enhance our relationship with the earth and one another, not just for today, but for tomorrow as well", said Studio Shed co-founder, Mike Koenig. "The Studio Shed donation is a symbol of our commitment to the venture and willingness to learn and grow...along with the plants."
Growing Gardens is comprised of inspired people joining together to actively replenish their environment, their community and themselves. The Cultiva! program is designed to foster youth (age 11-19), through interpersonal and leadership skills, business and entrepreneurial strategies for profitable business growth, and the importance of giving to those in need.
Cultiva! participants plant and nurture a two acre plot and harvest the produce weekly to sell at the Boulder Farmer's Market and donate to families in need. Over the course of the year, participants learn about planting, irrigation, tools and tool maintenance, and how to plan for the next season. The program introduces youth to beekeeping practices and maintaining hives throughout Boulder County. The program also includes greenhouse gardening's controlled environment that provides a growing climate year-round.
Cultiva! participants are encouraged to get involved with project administration, public relations, community education and service projects. Through Cultiva! youth learn to care for and protect the environment, learn how to operate a small business, and take part in a variety of activities which create positive change for the community, the environment, and the youth themselves.
Studio Shed's production facility is 100% solar-powered and every Studio Shed customer installation features a variety of green building materials; Studio Shed's dimensional lumber and Collins siding panels are FSC-certified, the aluminum-frame windows and metal siding are recyclable, all surfaces are Low-VOC paint, and the prefabricated structure is engineered with absolute minimum waste.
Just as it takes a community to raise a child, the following organizations have helped in the effort to raise this shed:

STUDIO SHED® - an innovative take on traditional backyard fixtures,. More than just a shed – it's an extension of your home with a variety of uses: an office shed an art studio, a kid's playroom, or simply a place to store a mountain bike.
###