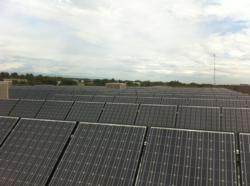 "The solar powered factory was a major turning point... The decision to go solar was very easy." Mike Koenig, President
Boulder, CO (PRWEB) September 14, 2011
When co-founders Jeremy Horgan-Kobelski and Mike Koenig started Studio Shed in 2008, their vision was to build the strongest, best-looking, and most sustainable shed on the market. With the addition of a 100% solar powered factory, Studio Shed appears to be leading the charge for being the greenest shed on the market, "The solar powered factory was a major turning point in regards to the net energy used to produce our product. Colorado has over 300 days of sun per year, and with the great rebates going on for solar, the decision to go solar was very easy," says Mike Koenig, President.
FSC (Forestry Stewardship Council) certified dimensional lumber, no VOC paint, FSC certified Collins siding, recycled aluminum trim, roofing and wainscotting, are a few examples of the green materials used in the production of the modern style sheds, studios, and garages. "The aluminum trim was also a big win for us. We actually switched to recycled aluminum in 2009, which was the last part of a complete green materials product," says Nick Ferrera, Studio Shed's General Manager who is also in charge of materials sourcing. "The Collins Company has been very inspiring to work with as well. Roughly 30% of our product uses the Collins TruWood material, and their staunch focus on the environment makes them a perfect partner for us."
For 2012, Studio Shed will be tackling the transportation side of things, and will work closely with partners who have a solid environmental policy in place. Visit Studio Shed to find out more!
# # #