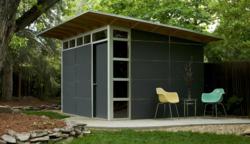 Boulder, CO (PRWEB) September 30, 2011
In their third year of business, Studio Shed, the Boulder based business that produces and installs contemporary style backyard structures nationally, is forecasting 210% growth in revenue over 2010. With the addition of several new product line items scheduled for 2012, key partnerships, and the addition of new sales representatives, Studio Shed feels that 2012 could see even higher growth rates.
"Our revenue is currently 161% over 2010. This time of year usually see's a surge in sales as home-owners are scrambling to get projects done before the cooler weather hits, so cresting 200% is certainly feasible " says Gregg Crandell, Studio Shed's California representative.
About Studio Shed
STUDIO SHED® is an innovative take on a traditional backyard fixture. More than just a shed – it's an extension of your home with a variety of uses: an office, an art studio, a kid's playroom, or simply a place to store a mountain bike.
# # #