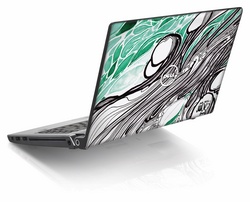 It's exciting and fun discovering new artists around the world who can create emotional ties, uniqueness and personalization with individuals' personal technology
ROUND ROCK, Texas (PRWEB) August 19, 2008
New unique designs for the Dell Studio 15 and 17 laptops include "Red Swirl," "Seaweed," "Sunburst," in addition to the previously released "Bunch O Surfers" and "Sea Sky." Each piece of artwork is brought to life through Dell's revolutionary manufacturing technique, enabling every vibrant color and individual brushstroke to be permanently "tattooed" on the laptop's cover.
The Special Art Edition Dell Studio laptops are available for order today, starting at US$799, at http://www.dell.com/art.
Dell's Studio 15 and 17 laptops are highly personalized products that combine aesthetics and technology into a fresh approach for hi-def mobile lifestyles. These laptops combine sleek designs, striking visual color elements and personalization options with features such as standard built-in webcam, capacitive touch media control buttons, slot load drives, and optional mercury-free LED displays, backlit keyboards and built-in mobile broadband.1
Brooklyn-based artist Mike Ming (born Michael Miyahira) blends popular culture, motion and emotion to communicate his visual world. According to Ming, "The technology behind creating Dell's Art House series of laptops allows me to share my visual creations with people who are inspired by art and who want to express their own individually unique sense of style."
"It's exciting and fun discovering new artists around the world who can create emotional ties, uniqueness and personalization with individuals' personal technology," said Michael Tatelman, vice president of global consumer sales and marketing at Dell. "The Special Art Edition designs reflect our customers' desires to add another level of individuality to everyday life."
Additional info, images
http://www.flickr.com/photos/dell_digital_media/
About Dell
Dell Inc. (NASDAQ: DELL) listens to customers and delivers innovative technology and services they trust and value. Uniquely enabled by its direct business model, Dell is a leading global systems and services company and No. 34 on the Fortune 500. For more information, visit http://www.dell.com, or to communicate directly with Dell via a variety of online channels, go to http://www.dell.com/conversations. To get Dell news direct, visit http://www.dell.com/RSS.
Dell Inspiron, and Dell Studio are trademarks of Dell Inc.
Dell disclaims any proprietary interest in the marks and names of others.
1 Subject to wireless provider's broadband subscription and coverage area; additional charges apply.
MULTIMEDIA GALLERY http://www.businesswire.com/cgi-bin/mmg.cgi?eid=5759144