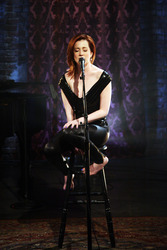 Didn't You Know How Much I Love You
Nashville, Tenn. (Vocus) February 10, 2010
Kellie Pickler takes over CMT's Nashville studio for a private performance of some of her biggest hits when STUDIO 330 SESSIONS premieres today, exclusively on CMT.com. Pickler and an acoustic trio deliver songs from her current album, including "Didn't You Know How Much I Love You" and "Makin' Me Fall In Love Again." In addition, she performs her first top-10 hit "Best Days Of Your Life" and gives a personal twist on the Keith Whitley hit, "Don't Close Your Eyes."
In a candid and witty interview, Pickler reminisces about her first concert, her first performance and shares a story about her My Little Pony lunchbox. Musically influenced by an array of country legends, she says, "I can't just give the credit to just one person because it's the country music family in general that have inspired me to do this." Pickler also shares heartfelt answers to reveal her greatest passion and most memorable gift.
To watch Kellie Pickler on CMT.com's STUDIO 330 SESSIONS, go to:
http://www.cmt.com/music/studio_330_sessions
Kellie's self-titled, sophomore album – Kellie Pickler – debuted at #1 on the Billboard Country Album Chart. Kellie wrote five of the album's 10 songs including her Top 10 hit "Best Days of Your Life" and her current hit single, "Didn't You Know How Much I Love You," which continues to climb the country singles chart.
STUDIO 330 SESSIONS features established country stars and rising artists in a "stripped down" performance series filmed exclusively for CMT.com. Since its launch in 2005, the series has premiered over 100 episodes including recent performances by Dolly Parton, Jamey Johnson, Taylor Swift, Colbie Caillat, Jake Owen, Joey & Rory and Randy Houser.
Visit CMT's press-only Web site http://www.cmtpress.com for more information and downloadable photos on all of CMT's programming.
CMT, a unit of Viacom's MTV Networks (NYSE: VIA and VIA.B), is the leading television and digital authority on country music and entertainment, reaching more than 90 million homes in the U.S. CMT and its website, CMT.com, offer an unparalleled mix of music, news, live concerts and series and is the top resource for country music on demand. The network's digital platforms include the 24-hour music channel, CMT Pure Country, CMT Mobile and CMT VOD.
###