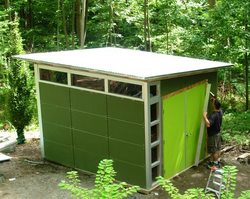 Overall I'm very happy with my new www.studio-shed.com [storage shed]. The purchasing process and installation was too easy.
Boulder, CO (Vocus) September 10, 2010
Mr. Ferrera was attracted to the design, price and one day installation of the Studio Shed models. "Overall I'm very happy with my new storage shed. The purchasing process and installation was too easy." Michael Ferrera
Beginning with a cement foundation, Ferrera selected French steel doors for easy viewing, ample natural light when the doors are open, and retrieval of large tools. The structure features 2' x 4' open stud interior walls and 2' x 6' full-length roof rafter construction. The exterior walls are covered with FSC (Forest Stewardship Council) certified Collins Siding to withstand years of humidity and a broad change in temperature. The clerestory and transom windows are shatterproof ultra-clear Plexi-glass, trimmed with brushed aluminum.
Studio Shed is a great alternative due to the speed of the permitting, installation process and level of client stress compared to a traditional remodel. The outdoor space that was once a dead zone becomes a functional space. Brian Andrew Fuentes, AIA. (Studio Shed Architect)
Studio Shed guarantees a 3-4 week delivery and installation. Studio Shed's prefabricated panels use a variety of green building materials: FSC-certified dimensional lumber, recyclable aluminum-frame windows and FSC certified Collins Siding, and Low-VOC paint. The complete structure is engineered with absolute minimum waste.
For more information, please call 888.900.3933 or go to studio-shed.com.
###