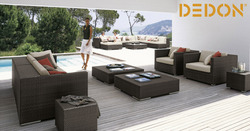 Given our short summer season, they can't believe how much we sell here in Canada, but we're unique that way. When we finally get summer, we're out there
Toronto, ON (Vocus) July 14, 2010
While many retailers are already focusing on fall, studio b is encouraging people to cherish the moment and enjoy the beautiful weather we are receiving. After last summer's rain and cool temperatures, homeowners are excited to bask in this years beautiful summer weather with backyard barbecues and garden parties. Entertaining outdoors however, requires comfortable seating and lounging outdoor furniture.
For decades, homeowners have settled with uncomfortable seating and wobbly tables to furnish their patios; instead you can turn your patio into the envy of all your neighbours by creating a luxurious retreat from the mundane. Outdoor living spaces are one of the hottest trends in home and garden design this year. Much more than furniture simply placed outside, outdoor living spaces create transition spaces between the interior of a house and the backyard. studio b knows that every family is different and matches outdoor pieces with the family's style and personality.
With today's furniture designers, the options for outdoor furniture are limitless and anything but bland. studio b has witnessed the increase in popularity of this trend by reporting record-breaking sales of outdoor furniture in 2010. David Beaton, president and owner of studio b shares "Given our short summer season, they can't believe how much we sell here in Canada, but we're unique that way. When we finally get summer, we're out there". Today it is sometimes difficult the distinguish what pieces belong outside and what belongs inside as they both offer the same comfort level. studio b has capitalized on the world's top furniture designers to provide clients with the best selection in luxury outdoor furniture available.
DEDON is known world-wide as the epitome of outdoor luxury, with reporters such as The Globe and Mail's Liane Beam Wansbrough calling it "DEDON, the Louis Vuitton of outdoor furniture". With a reputation like that, studio b is delighted to be the exclusive distributor of DEDON in Canada. With the ability to withstand decades of exposure to sunlight, harsh weather and saltwater, DEDON furniture is in a class of its own when it comes to durability against the elements. Often imitated, DEDON furniture is hand woven with breakthrough uniquely sturdy synthetic fibre developed by non-other than DEDON owner and founder Bobby Dekeyser himself. Weatherproof, temperature resistant, toxic free, UV stable, fully recyclable, sustainable and exceptional in both look and feel, DEDON Fibre has revolutionized the world of outdoor furniture.
With boundaries between indoor and outdoor furniture blurring more every year, studio b's sister company plan b offers furniture by Roda which has the ability to be used both indoors and outdoors. Known for their extremely durable hydro draining fabrics, Roda is a luxury Italian furniture line specializing primarily in teak and metal pieces. These remarkable furnishings will allow your backyard to duplicate the comfort you are already accustomed to in your home.
During the warm months of the year, backyards may be the most used areas. There is nothing better than being near a pool with the smell of barbeque lingering in the background, but all the allure is lost if guests are sitting in uncomfortable chairs. Create more than a patio; studio b can transform your patio into an oasis of magnificent luxury.
About studio b
studio b offers luxury home furnishings in Toronto and around the globe. Founded in 1999 by David Beaton, studio b has grown to four showrooms in downtown Toronto and a satellite showroom located in Oakville. studio b is dedicated to providing exceptional name brand furniture, such as Baker, DEDON, Barbara Barry realized by Henredon, McGuire and Baccarat. Luxury and exceptional customer service is our mandate.
studio b is proud to be the only dedicated distributor of Barbara Barry realized by Henredon in Canada, the only distributor of DEDON in Canada as well as the largest retailer of Baker and Barbara Barry realized by Henredon in North America.
# # #