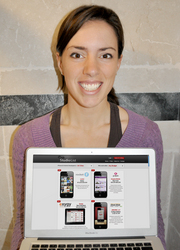 Our goal is to improve visibility of the premier mobile development studios.
Brighton, CO (PRWEB) February 23, 2011
The new mobile developer directory, StudioList, was created to help ease the frustration of finding a talented mobile developer. "The studio with the top search ranking isn't always the best iPhone or Android developer to work with," affirms Carly Gloge, StudioList's co-founder, "our goal is to improve visibility of the premier mobile development studios."
Warb Web, StudioList's parent company, made the decision to launch the directory a year after they started creating iPhone & iPad apps. "We wanted to get our name out there, but the directories we found didn't represent the best developers," says Gloge. In the past four months, Warb Web has evaluated thousands of mobile app studio contenders. The resulting shortlist features only top quality developers the directory is likely to host. In the next few weeks, StudioList will work with these candidates to get their listings up and running on the new website.
Currently, the directory is offering a free listing to developers who present impressive portfolio pieces and a professional website. By late March, StudioList plans to begin actively driving leads and new business to the site. Once the advertised studios are receiving a steady flow of leads, StudioList will give the developers the option to pay for an upgrade to a premium account. While free accounts will still be included in the directory, the premium accounts will have the advantage of being displayed above all non-paid listings.
The traffic and positive response generated by StudioList is already exceeding the creators' expectations and they anticipate the buzz will continue to grow in the following months. Feedback from businesses and entrepreneurs on new and potential features is welcomed and strongly encouraged. Comments and suggestions may be submitted to: http://studiolist.org/?act=contact.
About StudioList
The StudioList is powered by Warb Web, an application & web design studio based out of Denver, Colorado. As iPhone / iPad developers ourselves, we saw the need for a central listing of studios pre-filtered for quality of work and organized by location. For more information on StudioList, please visit the FAQ website at http://studiolist.org/?act=faq.
CONTACT:
Isaac Squires
Warb Web
1-720-897-7706
isaac(at)warbweb(dot)com
http://studiolist.org
###