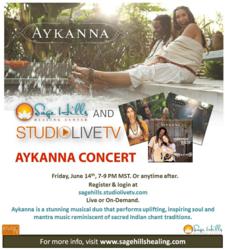 Aykanna performs some of the world's most uplifting soul and mantra music and we are very excited to have StudioLiveTV bring the stunning musical duo's inspiring program live from Sage Hills Healing Center to the Internet
Cedar City, UT (PRWEB) June 14, 2013
StudioLiveTV and Sage Hills Healing Center will present the uplifting soul and healing mantra music of popular Los Angeles musical duo Aykanna—live from the beautiful surroundings of the OM Ranch Retreat in Southern Utah--tonight at 7p.m.
Concert goers can watch the concert live at Sage Hills Healing Center, on the live Internet stream or on-demand (post concert) on the Sage Hills StudioLiveTV channel: http://sagehills.studiolivetv.com
Tonight's Live Concert will begin at 7 p.m. and end at 9 p.m. Online view prices start at $8. Sage Hills and StudioLiveTV will have the program available for on-demand viewing through August 15, 2013.
"Aykanna performs some of the world's most uplifting soul and mantra music and we are very excited to have StudioLiveTV bring the stunning musical duo's inspiring program live from Sage Hills Healing Center to the Internet," said Melanie Paulk Abderrahman, Owner, Host and Yoga Teacher, Sage Hills Healing Center.
About Aykanna
Created by Sukhdev Jackson and Grammy nominated percussionist Akahdahmah, Aykanna, merges sacred chants with uplifting music. Aykanna means "the pipeline between heaven and earth from the ancient sacred Arameic texts." Sukhdev's Soul and Jazz upbringing and Akahdahmah's West African percussive influences seasoned with Afro-Cuban, New York City funk resonate throughout their albums "Livelight" and "Mother". For more information, visit http://aykanna.com/MedicineMusic.
About StudioLiveTV
StudioLiveTV is an online service provider that works with studios, instructors and health clubs to stream and or film (for on-demand views) group fitness classes, training and workshop sessions as well as special events-- live, as they happen. Real-time yoga and group fitness classes online...anytime, anywhere! For more information, visit http://studiolivetv.com.
About Sage Hills Healing Center
Located at in Southern Utah, Sage Hills Healing Center offers the teachings of Kundalini Yoga and Meditation -- innovative solutions in creativity for these challenging, rapidly accelerating and changing world. For more information, visit http://sagehillshealing.com.