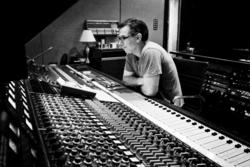 We are thrilled that Nick has made the big decision to relocate to Australia, working with us at Studios 301
Byron Bay, NSW, Australia (PRWEB) July 11, 2012
Since moving to Los Angeles in 1991, then to Atlanta in 1996, Nick DiDia has engineered multiple albums for Bruce Springsteen, Pearl Jam, Rage Against The Machine, Stone Temple Pilots, Train, and Incubus, to name a few. Along the way he also produced, engineered, and mixed albums for Powderfinger, The Living End, Brad, Nine Days, Trial Kennedy, Katie Noonan, Rose Hill Drive and others, which collectively have resulted in over 35 million record sales worldwide and multiple Grammy, ARIA and Dove awards and nominations.
Studios 301 General Manager Anthony Garvin said it was a great pleasure to welcome Nick onboard. "We are thrilled that Nick has made the big decision to relocate to Australia, working with us at Studios 301. With his talent, skill and experience, he will be an asset to the music community in helping to develop the sound of new acts, further the success of established bands, nurture the next breed of producers and engineers, and continue to help the Australian music industry to compete internationally."
DiDia's latest work includes new records by The Gaslight Anthem, Walk The Moon, Third Day and Holland, with several records lined up for him upon his arrival to Australia.
Discography highlights include:

Powderfinger (Internationalist, Odyssey Number 5, Vulture Street, Fingerprints, Golden Rule)
Pearl Jam (Vs., Vitalogy, No Code, Yield, Backspacer)
Bruce Springsteen (The Rising, Magic, Devils & Dust, Working on a Dream)
Rage Against The Machine (Evil Empire, Battle of Los Angeles)
The Living End (The Ending Is Just The Beginning Repeating)
Stone Temple Pilots (Core, Purple, Tiny Music, No. 4, Shangri-La Dee Da)
Mastodon (Crack The Skye, Live at Aragon)
Train (Drops of Jupiter, Calling All Angels)
Incubus (A Crow Left of the Murder, Light Grenades)
...as well as albums by Paul Westerberg, Michael Penn, Velvet Revolver, Audioslave, Danzig, Ian Walsh, King's X, and more.
For interview opportunities or a full discography, contact Danielle Engen at +61 (2) 9698 5888, danielle(at)studios301(dot)com, or http://www.studios301.com.