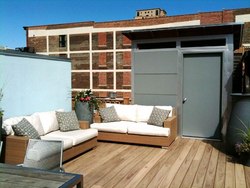 Boulder, CO (Vocus) November 10, 2010
Nationally renown designer Dana Killion selected a Studio Shed to complement her deck furniture on top of Chicago's historic Studebaker Building.
Beauty exists in the eye of the beholder and thankfully, Dana Killion - who has fantastic taste - didn't give up her year-long search for the perfect structure to hold her gardening tools and cushions.
"I spent a fair amount of time considering options - custom vs. kit - but I was having trouble getting custom builders to understand aesthetics, and I wanted something attractive yet the traditional storage structures you can retro fit are pathetic from a design standpoint."
Dana took a break from her storage seeking project and 9-months later, in the spring of 2010, she found Studio Shed online.
With a penchant for architectural slant, details and shapes Dana's fashion muse are designers Rick Owens and Helmet Lang. According to Dana, Studio Shed offers a similar bold, clean, and alluring style. Sometimes Dana sits quietly on her deck, contemplating the future and setting goals for her company while staring at the Chicago skyline and her handsome Studio Shed.
Dana Killion, her husband and two sons (17 and 20yrs old) purchased the third floor Studebaker Building loft six years ago while living and working in NYC. Having lived in Chicago previously and feeling a strong connection to the community and environment, their desire was to return. Dana launched her own designer clothing label Killion Clothing in 2008. A few months later, following a long distance, multi-year loft renovation Dana and her family moved back to Chicago in 2009.
STUDIO SHED® is an innovative take on the traditional backyard fixture. More than just a shed – it's an extension of your home with a variety of uses: an office, an art studio, a kid's playroom, a garage or simply a place to store a mountain bike. Features include: Free Installation, 3-4 week turnaround, national shipping, walls (from 6' x 8' to 16' x 60'), 20 color choices, and built with green and sustainable materials.
For more information please visit http://www.studio-shed.com .
###