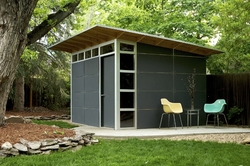 ...an incredible vision for her backyard and now it will be complete, Studio Shed was the missing piece.
Boulder, Colorado (PRWEB) April 23, 2010
Building momentum as a solid start-up company Studio Shed is proud to announce the April 23rd installation of their first prefabricated structure in Palo Alto on the property of a 1955 Eichler home owned by the Yang family.
Mike Koenig, co-founder of Studio Shed is looking forward to the upcoming install, "Amy Yang has an incredible vision for her backyard and now it will be complete, Studio Shed was the missing piece. We are all excited to help her obtain her vision."
WHAT IS STUDIO SHED - Studio Shed is an innovative take on a traditional backyard fixture. More than just a shed – it's an extension of your home with a variety of uses: an office, an art studio, a kid's playroom, or simply a place to store a mountain bike. Studio Shed manufactures modern residential sheds designed for those individuals who love the size of their home but need more room for "life". Rather than a traditional remodel, Studio Shed embraces the emerging modern lifestyle of smaller and smarter spaces.
BREAKDOWN

Price: Models start at $4900
Sizes: 8' up to 20' per side
Wide variety of custom options and styles
Installation: 6-8 hours by Studio Shed team
Do It Yourself flat-packed kit available ($250 discount)
GOING GREEN - Green building is more than a slogan - it's an integral part of Studio Shed's design and company philosophy. Studio Shed's prefabricated panels use a variety of green building materials: FSC-certified dimensional lumber, recycled aluminum-frame windows and HardieBacker siding, Low-VOC paint. Complete structure engineered with absolute minimum waste.
THE FOUNDERS - Studio Shed was founded in 2009 by two cycling professionals: Mike Koenig, an entrepreneur and former pro mountain bike racer and Jeremy Horgan-Kobelski, an Olympic athlete and 5-time National Champion, currently racing for the Subaru Gary Fisher Mountain Bike Team.
Mike Koenig, Studio Shed's President, oversees production and manufacturing. Mike's expertise was created as one of the founders of The Student Planner. Today, The Student Planner prints over 2.5 million student planners nation-wide, k-college. They are the second largest print medium in their category.
Jeremy Horgan-Kobelski is Studio Shed's VP Product Development. Graduating at the top of his class at CU for engineering, Jeremy's creative drive and experience with the highest levels of product development are cutting edge and aesthetically pleasing.
For more information and to configure your own Studio Shed, go to http://www.studio-shed.com .
###