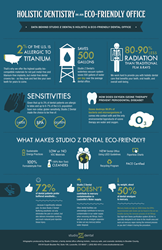 Louisville, CO (PRWEB) June 10, 2015
Nowadays, words like "natural" and "holistic" and "green" are too often bandied about without cause. The poignancy of their meanings has been dulled by overuse and misuse, rendered as nothing more than marketing terms. Rather than invent a new lexicon, however, integrity can easily be restored by way of the maxim, "show don't tell."
Studio Z Dental in Louisville, Colorado, identifies itself as a "holistic" and "eco-friendly" dental office and those descriptors are more than fitting. Each aspect of Studio Z Dental's operations has been analyzed to ensure it does what's best for the patient and the environment. The dental office has just released an infographic with data that lends credence to their holistic dentistry and eco-friendly claims.
Of the most notable — yet most surprising — statistics presented on the infographic is Studio Z Dental's water conservation: The clinic saves 500 gallons of water per day through their waterless vacuum system. When states such as California are confronting the harsh reality of water as a limited resource, it's important to help raise the bar for the dental industry. A single dental office might waste as much as 90,000 gallons of water in one year. By merely switching to waterless vacuum systems, the dental industry could contribute to a huge environmental step forward in the way of conservation — an estimated 9,000,000,000 gallons per year.
It should also be noted that, along with the billions of water poured down the drain, a startling quantity of chemicals, all deemed highly injurious to both human and environmental welfare, are used ubiquitously. The Environmental Protection Agency (EPA) estimates that American dental offices contribute a minimum of 3.7 tons or 7,400 pounds of mercury-containing waste to our water supply every year. Much of the waste ends up incinerated with other trash, in our air, and in the fertilizer used on food crops.
Mercury absorption is known to cause a number of health problems, including nervous disorders, cancer, kidney damage, respiratory failure, and even death.
Always looking to be a part of the solution, Studio Z Dental has taken painstaking measures in the r emoval process of old fillings to protect not only the patient and the water supply from mercury, but also the atmosphere of the dental office itself. Because the EPA has reported mercury levels in the air to reach as high as 3,000 times that which is considered safe to breathe during the removal of old mercury fillings, Studio Z Dental uses IQ Air as an alternative method to safeguard patients and clinicians from exposure. IQ Air is a high-tech Swiss purification system designed to sit close to the mouth and suck out the mercury vapor during the removal process — preventing its inhalation.
Also in concert with holistic-health and eco-friendly practices, Studio Z Dental offers crowns and implants that are metal- and titanium-free, as well as a clinic that is free of latex, BPA, and gluten. The clinic has also committed to being formaldehyde-free, as formaldehyde is a potent environmental and health hazard known to cause cancer and other such maladies. Additionally, Studio Z Dental's digital x-rays use 80-90 percent less radiation than those in the majority of traditional dental clinics.
The data outlined in Studio Z Dental's infographic really only presents the tip of the iceberg when it comes to the amount of research and care invested in making Studio Z Dental the most conscientious choice for patients and the environment. If you have a question or concern about the impact dental care has on you or the environment, contact Studio Z Dental at (303) 802-4313.