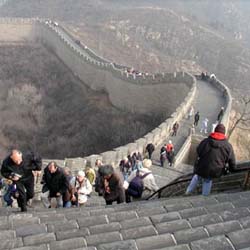 For many, the ability to speak Mandarin or learning Cantonese in Hong Kong has been instrumental to advancing their careers. We have worked closely with our partners in China to make this special offer."
Philadelphia, PA (PRWEB) July 29, 2011
AmeriSpan Study Abroad, a leader in worldwide language immersion programs, has announced a new Discover China special that offers students off all ages the chance to discover China and the language. Participants will be able to save 12% when they chose to learn Chinese in Beijing or Shanghai. This special offer is available to participants who apply for a Beijing Chinese school or to learn Chinese in Shanghai by September 15, 2011 and start their language immersion program before the end of the year.
China's economic, political and military influence are expected to continue to grow in the coming years. In addition, more than one billion consumers worldwide speak Chinese. It is clear that understanding China's people, culture and language are an important skill for those interested in international jobs, politics for people looking for work in politics, business, marketing, and nearly ever other career path.
"For many, the ability to speak Mandarin or learning Cantonese in Hong Kong has been instrumental to advancing their careers. We have worked closely with our partners in China to make this special offer," remarked Beth Lieberman, Vice President of AmeriSpan Study Abroad.
The Mandarin dialect spoken both in mainland China and Taiwan is the most widely spoken language in the world and one of the five official languages of the United Nations. Cantonese is the second most extensively spoken Chinese dialect because of the strength of Hong Kong's economy and culture.
Since Cantonese and Mandarin are not interchangeable, some people choose to study both languages. However, Chinese is not easy to master so we feel the most important thing is to be exposed to the culture, country and people firsthand. We offer several volunteer placements in China where volunteers are not required to learn the language, including a project where participants work with the country's indigenous Giant Panda," adds the organization's co-founder, John Slocum.
People interested in learning more about this special offer or AmeriSpan's other study abroad programs should refer to the company's website (http://www.amerispan.com) or speak directly to an AmeriSpan study abroad consultant, to speak with someone directly over the phone, call 800-879-6640.
Founded in 1993, AmeriSpan Study Abroad offers more than 100 study abroad, language-learning and volunteer programs worldwide for participants of all ages and language level. The Philadelphia-based organization has long been an innovator in the study abroad field, building its reputation by offering high quality, low cost language immersion programs. In May 2011, the company was named a finalist for the Star Award as Best Agency in North America for the fourth consecutive year. The industry's prestigious Star Award is voted by organizations worldwide and awarded annually. AmeriSpan has received the award the past two years.
###