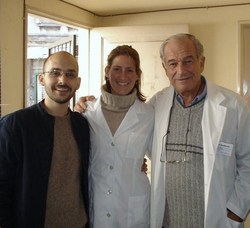 One of ECELA's goals is to resist the trend of soaring educational costs.
Santiago, Chile (PRWEB) June 16, 2010
ECELA Spanish Schools announced that it has introduced seven affordable programs that allow students to study Spanish abroad for less than $2000. This price tag is a sharp contrast to that of other courses, which typically charge $5000 or more. One of ECELA's goals is to resist the trend of soaring educational costs. The organization seeks to make it possible for those on a limited budget to study in Argentina, Chile or Peru.
For this new rate, a Spanish Language course is offered that runs a length of four weeks and is comparable to that of a college semester. The studies are in a mini-group of just 4-7 students. Students also receive housing and the ability to study an additional special topic during their time abroad.
There are seven programs to choose from, and each one is targeted to students with varying interests, combining a Spanish immersion course with a special topic. For example, there are programs designed for pre-med or nursing students who want to experience medical shadowing in a Peruvian hospital. There are also sessions geared for those who might want to learn the tango in Buenos Aires due to their interests in the performing arts. Another special focus offered by ECELA is wildlife preservation in Argentina, with a goal of saving the Argentine Condor. Activities like surfing in Lima or snowboarding in Santiago are also possible as fitness add-ons.
Students can choose between two housing options during their Spanish language course. They can either live with a local family or in a shared apartment with other students. However, ECELA's low cost does not mean that students will potentially be stuck in low-rent neighborhoods. To cite just a few examples, participants can choose from ECELA's new building is in posh Recoleta, Buenos Aires, or even a converted mansion in Providencia, Santiago.
One of the reasons that ECELA can offer students a chance to study Spanish abroad at this low rate is that students are buying their course directly from the school. Educational travel companies often charge a markup of over 100%. President Ken Ingraham addressed ECELA's ability to charge such low rates, "The main reason the programs are so affordable is that there is no middle-man markup."
Despite the low price of these courses, the quality of the overall experience and level of education is not compromised. Last year, student evaluations showed that 86% of students gave each ECELA teacher a 5 out of 5 rating. Ingraham added, "We are committed to making study abroad affordable for not just the well-off, but also the typical American student. As our awards and feedback show, our quality has not suffered." ECELA also benefits from consistently positive word-of-mouth marketing. This is yet another factor that allows this organization to keep its costs low.
About ECELA
ECELA operates Spanish schools in the South American countries of Argentina, Chile and Peru. ECELA instructs over 2000 students per year and the program's students originate from over 30 countries. With 20 hours of small group classes per week, cultural activities and excursions, and the advantages of living in a Spanish-speaking environment, immersion students advance very rapidly. To learn more about ECELA's programs visit http://www.ecela.com.
###