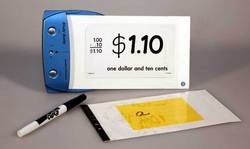 By changing visuals and auditory cues, entire lessons plans can be stored or changed in just moments, making even complicated lessons easy to digest. This is truly the future of learning.
South Hackensack, NJ (PRWEB) April 15, 2008
Students learn better when lessons are repeated. To help facilitate learning, Hamilton Electronics has introduced the Study Buddy, an electronic, interactive and customizable learning system. Study Buddy helps students from pre-K through high school create their own talking flash cards using visual and auditory cues to reinforce learning.
Study Buddy also allows teachers to create original, customized curriculum materials for their classrooms. Create a lesson or activity in minutes that meets the needs of individuals or small groups of students. Using dry-erase pens, photographs, graphics and/or original artwork that is prepared on reusable electronic cards, teachers can record an accompanying voice instruction that is unique for each card. By combining voice and graphics, student learners can work independently with the card sets on a variety of topics.
"Study Buddy is a terrific tool for students as well as teachers," says Sheldon Goldstein, former teacher and President of VCOM International Multimedia Corporation, the parent company of Hamilton Electronics. "By changing visuals and auditory cues, entire lessons plans can be stored or changed in just moments, making even complicated lessons easy to digest. This is truly the future of learning."
Use Study Buddy to create unique lessons, give group instructions, inspire story telling and writing or simply hold project instructions for student use. Simply slip a photograph or artwork into one of the electronic cards, insert the card into Study Buddy's card reader and record up to 10-seconds of customized audio that can be played back instantly. Until it is changed, each card corresponds exactly with its own unique audio segment.
The Study Buddy comes complete with 36 two-sided reusable, laminated cards that provide a total of 72 individual 10-second recordings which can be used over and over again or changed for years of learning fun and reinforcement.
Customized Curriculum in a Flash!
Using Study Buddy, teachers can:

Assist grade and high-school students in learning and reading a foreign language
Stimulate young children and create easy lessons to assist with object identification, sorting, story-telling and sequencing skills
Facilitate station learning by disseminating prerecorded instructions that can be listened to as needed
Encourage writing skills by using Study Buddy to assist in the creation of individual stories
Promote group problem solving including word-based "scavenger hunts," riddles or other learning games
Improve vocabulary in students of all ages by providing the word and a recorded definition
Make math easier by showing a visual problem and including an audio with the equation and the answer
Reinforce public safety issues such as identifying a stop sign with an audio segment saying, "This is a stop sign. It means to stop and look both ways"
One-touch play and record makes the Study Buddy easy to operate for teachers as well as children of all ages, and its "record protect" feature keeps the recordings safe from accidental erasure or tampering. Available online at Hamilton Electronics, Study Buddy runs on three AAA batteries. The manufacturer's suggested retail price is $69.75.
Hamilton Electronics is a division of New Jersey-based VCOM International Multimedia Corporation, a diversified electronics company serving the education, professional audio and video, and corporate markets. Hamilton is a leader in electronics for the education market since 1933, providing one-stop shopping for quality audio and video equipment that facilitates better learning from K-12.
###