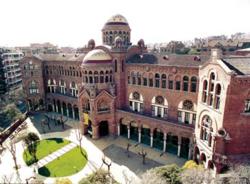 Most agree that studying abroad is a smart decision for the development and career prospects of college students, but like all education it can be a big investment. Our goal is to make it easier for more to participate
Philadelphia, PA (PRWEB) May 25, 2011
AmeriSpan Study Abroad has announced $75,000 in scholarship grants for college students looking to spend a semester overseas. Students currently enrolled at a US and Canadian universities may apply for grants ranging from $500-$2,000. The grants are awarded on a first come, first serve basis and there are no eligibility restrictions such as family income, race or university eligibility. These grants are available to current students who plan to attend an AmeriSpan semester program at certain international, accredited universities in Spain, Costa Rica, Argentina, Chile or Ecuador.
In today's globally interdependent world, a well-rounded education is important to prepare today's young people for the future. Participants, who spend a summer or semester abroad to improve their interpersonal skills, have a better cross-cultural understanding and have the opportunity to develop important language skills. An experience in another country bolsters a resume and will help a past participant stand out from the pack when looking for a job. Moreover, academic credit is awarded for these programs and can save on college expenses because AmeriSpan College Study Abroad programs are usually cheaper than a semester at a university in the USA.
"Most agree that studying abroad is a smart decision for the development and career prospects of college students, but like all education it can be a big investment. Our goal with these study abroad scholarships is to make it easier for more people to participate in these rewarding programs", commented John Slocum, AmeriSpan's Co-founder.
The new scholarship grants are part of AmeriSpan's "Study Abroad: Push it Forward" initiative which includes a unique study abroad fundraising program, new "student-friendly" tuition rates and a contest focused on sharing study abroad stories and advice. The fundraising program is particularly innovative as the program is designed to turbocharge a participant's own efforts by promoting their story to more than 30,000 past AmeriSpan participants and study abroad enthusiasts.
AmeriSpan's Vice President adds, "Although many of our participants utilize financial aid, student loans, fundraising and scholarships, it sometimes just isn't enough. These grants coupled with our tuition rates which are significantly cheaper than other organizations will allow more to experience programs such as our popular semester in Barcelona, Spain."
Founded in 1993, AmeriSpan Study Abroad offers more than 100 study abroad, language-learning and volunteer programs worldwide for participants of all ages and language level. The Philadelphia-based organization has long been an innovator in the study abroad field, building its reputation by offering high quality, low cost language immersion programs. In May 2011, the company was named a Finalist for the "Innovators in Social Media" award sponsored by GoAbroad.com. In September 2010, the company was awarded its 2nd consecutive 'Star Award' as the Best Agency in North America. The industry's prestigious Star Award is voted by organizations worldwide and awarded annually.
###