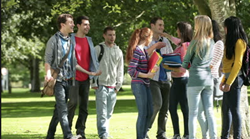 According to AdAge, 'back-to-school and back-to-college spending accounts for $84 billion in sales, making it the second-biggest season for retailers...'
Austin, TX (PRWEB) May 09, 2014
As finals season begins to wind down and students start the process of shifting into their summer routine, businesses aimed at the college demographic should already be planning their marketing strategy for the fall semester.
According to AdAge, "back-to-school and back-to-college spending accounts for $84 billion in sales, making it the second-biggest season for retailers. Though that's a far cry from the winter holidays' $580 billion take, it handily exceeds Mother's Day, which is the next-biggest holiday-shopping period, with $21 billion in consumer spending."
Here Study Breaks, a leading college media entertainment company, presents advertising strategies for businesses to implement to capture the business of college students during the back-to-school season.
Start Planning Now
Businesses looking to take advantage of this college-based economic boom should plan ahead in order to maximize their strategy execution. A properly run campaign could be the push needed to grow and sustain one's brand throughout the entire school year.
Marketers shouldn't just think in terms of "instant gratification." Although dollars spent are an immediate drain on one's budget account, the best measure of success is witnessing how that campaign resonates with students and continues to help one's overall brand over time. Business owners who use "hot" periods of the year to gather customer data and expand their brand awareness can then use that information as a tool to leverage their business, regardless of outside circumstances.
Set A Budget
Setting a budget is one of the most important "to do" tasks when planning one's advertising strategy. Not only does a proper budget keep business owners from over-extending themselves, but it allows marketers to get an idea of what marketing strategies are even possible.
The SBA suggests that as a general rule, a small business with revenue of less than $5 million should allocate 7-8 percent of their revenue to marketing. This budget should be split between:
1. Brand Development Costs
These costs include all the channels one uses to promote the brand, such as websites, blogs, etc.
2. Business Promotion Costs
This includes all types of campaigns, advertising, etc.
This aforementioned percentage is also based on the assumption that margins are in the range of 10-12 percent (after covering other expenses, including marketing).
Plan Out Promotions
Planning a promotion is as simple as defining one's goals and creating a promotion that is geared towards meeting those goals. If gathering data such as social media followers, email addresses or other contact info is one's main focus, then paying for an outside source to expand one's message to a new audience is a must-have. Other promotional goals such as introducing a product or reconnecting one's brand with campus are less likely to require a driving force and are more based on event creativity and execution. If one wants to establish a connection with new, younger students, it's important to consider details such as reaching the dorms (where freshmen, for example, are more likely to live) with one's campaigns and using a space that's open to minors when hosting events.
Marketers need to know what they are trying to accomplish up front. Without a focused strategy, often they will find themselves spending money with no tangible outcome to show for it.
Develop Marketing Strategies
Finally, one needs to decide how to best develop their marketing strategies and which medium (or media) they should be investing in with their advertising dollars. Much like when planning promotions, when considering marketing strategies, it's important to have an overarching goal and a plan for how various platforms (print space, online display ads, flyers, apartment mailers, radio or social media ads) can help one achieve it—and, on the other end of the spectrum, consider which platforms aren't a good choice when one is just getting started and introducing (or re-introducing) their brand to the student body after a long few months away.
All in all, a well-planned marketing strategy will be demonstrated in its execution and—if done correctly—will ultimately capture the attention and business of the students. By starting one's planning ahead of time and taking advantage of the charged college atmosphere, marketers can work effectively and improve their brand tenfold.
Study Breaks College Media provides a one-stop solution for small businesses, providing them with big marketing strategies and delivering college students.
Study Breaks magazine is an award-winning line of monthly entertainment magazines for college students with a mission can best be explained through its slogan: We are college life. Published by Shweiki Media Printing Company, it is distributed in five Texas cities (Austin, Houston, San Antonio, San Marcos and Lubbock). (Studybreaks.com)