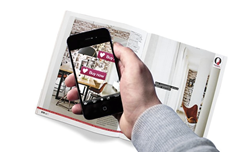 GIFs...are also proven to enhance click-through rates and even improve social sharing statistics...[and] GIF creation companies now provide a platform enabling any business owner to easily upgrade their web design...
(PRWEB) June 20, 2013
As time has gone by and technology has evolved, there have been serious developments in design as well--but it's an aspect often overlooked by many. Innovative tech icon Steve Jobs was famously one of the first to embrace design as a crucial element in the success of his tech products and--of course--others have followed suit. Today, design (particularly graphic design) is seen as an extension of the business itself. However, there are some businesses that have failed to adapt and adopt the technology and have been left behind. Fortunately for those business owners still stuck in 2008, Study Breaks College Media has compiled a compilation and explanation of five design tools built to enhance the look of one's print advertisements and web design graphics.
Kuler
Kuler is an app built by Adobe and designed for iPhone that allows one to use their camera phone to capture and edit color palettes. Once one snaps a picture, Kuler allows them to either extract color from the image itself or insert an alternative color selection from their color wheel. The result is a vibrant, enhanced photo that can be synced with graphic design tools such as Illustrator, InDesign and Photoshop.
GIF Images
GIF images are one of the more popular forms of media emerging on websites today, and not only are GIFs more aesthetically pleasing than a still photo, they are also proven to enhance click-through rates and even improve social sharing statistics. GIF creation companies such as Cinegif now provide a platform enabling any business owner to easily upgrade their web design with a beautifully flowing online image.
Google Rich Snippets
While Google Snippets do little to enhance the overall design of one's site, their addition drastically revamps a business's initial credibility. Google is an Internet powerhouse, and for one to pretend that they're relevant without Google backing suggests both a large misunderstanding of their audience and quite possibly some Microsoft-Bing brainwashing. Not only do Google Snippets feed one's site with more viewers, but users consistently take the site more seriously after recognizing the mutual link.
Augmented Reality
Augmented Reality has truly changed the world of print by allowing publications to add life to their editorial and businesses to add life to their ads. AR parallels all the positive GIF attributes for the web and brings them to the print medium. It's cutting-edge, expanding in popularity, and will eventually persevere as the societal norm. Its aesthetic charm and technological upside makes AR a go-to tool for any business invested in print advertising, allowing them to incorporate links and videos and add an element to print that hasn't previously existed. It's safe to say that it's not only amazing technology; it's amazing technology that's here to stay.
Lorempixel
Lorempixel is a great tool for web designers who need to fill a specifically sized space on their page. The (free) tool features a vast databank of pictures ranging in sizes from multiple categories. Lorempixel's value relies on providing a placeholder, allowing one to fill the space that needs to be filled (and would be empty otherwise) with a quality photo (random or selected) and even add custom text on the selected picture itself.
Study Breaks College Media provides a one-stop solution for small businesses, providing them with big marketing strategies and delivering college students.
Study Breaks magazine is an award-winning line of monthly entertainment magazines for college students with a mission can best be explained through its slogan: We are college life. Published by Shweiki Media Printing Company, it is distributed in five Texas cities (Austin, Houston, San Antonio, San Marcos and Lubbock). (Studybreaks.com)