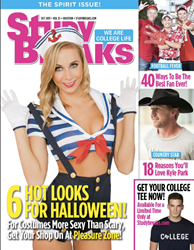 Halloween is a popular (aka profitable) holiday, with statistics from the National Retail Federation reporting that 69.4% of 18-to-24-year-olds dressed up in 2010, 55.4% were either throwing or attending a party, and 38.6% visited a haunted house.
Austin, TX (PRWEB) October 24, 2013
The holiday season is upon us, and aside from the usual $417 billion students spend annually on items such as textbooks, rent and tuition, the upcoming holidays present business owners with a three-month window with even more potential profit.
Select niche businesses such as costume stores and haunted houses rely on product uniqueness (and traditional norms) to establish a yearly connection with their customers, but what would it take for everyday small business owners to do the same? And is the potential for monetary gain, even over a short period of time, worth branding efforts?
Halloween is arguably the most popular student holiday of the year, with statistics from the National Retail Federation reporting that 69.4% of 18-to-24-year-olds dressed up in 2010, 55.4% were either throwing or attending a party, and 38.6% visited a haunted house. And not only that, but Halloween participation numbers seem to be rising for adults altogether, as economic numbers jumped to $5.8 billion in 2010, with the typical adult spending at $66.28 ( a $10 increase from 2009's average).
If there is one Halloween consistency business owners can bank on, it's that students everywhere will be scouring the local party scene looking for the best night experience possible. For bar owners, this usually equates to a month marketing one's Halloween pub crawl, house DJ or epic drink specials, and using social media and advertising resources to hit the market first. One excellent idea bars can consider is also holding a costume contest with an awesome prize—bottle service perhaps—for the most creative or scary costume, and either awarding it that night or getting contact information from participants and notifying the winners later. An incentive to win will drive students to the bar on Halloween itself, while a prize they must be at the bar to redeem (again, like bottle service) will drive them and their friends back on another night. (And one shouldn't forget about the value of capturing contact information itself, whether emails for monthly newsletters or phone numbers for mobile marketing purposes.)
One advantage Halloween claims over its holiday counterparts is creative freedom, however, and one doesn't have to be in the bar business to capture a piece of the holiday action. As is usually the case, students will bypass most options to get the best deal. Whether one can solve a piece of the costume puzzle, supply a decorative item, or whip up a special pre-party meal, separating a product or service from one's overall line and highlighting it as a can't-miss holiday special each year is a way for businesses to become an annual, traditional part of their audience's Halloween.
And the marketing doesn't have to stop once Halloween is over. Bars and restaurants should take the opportunity to snap photos of their attendees, share them through social media, and encourage people to tag themselves. This not only has potential to drive web traffic and result in more "likes" and followers, but it allows customers to share and inadvertently market their experience, resulting in free advertising to the business's target demo that just might pay off for the company next year.
Meanwhile, businesses that DO dabble in Halloween-specific items (say costume stores and places that sell decorations) can run contests through social media encouraging people to submit photos of themselves in costume or their home adorned with spooky décor. Like-gating the contest (making it a requisite for voters to "like" the business's Facebook fan page in order to vote) is a good way for a business to capture more "likes." Meanwhile, for a prize, one can consider giving away a gift certificate to their business valid through next Halloween, ensuring that when October 31st rolls around again, they'll have themselves a repeat customer.
Study Breaks College Media provides a one-stop solution for small businesses, providing them with big marketing strategies and delivering college students.
Study Breaks magazine is an award-winning line of monthly entertainment magazines for college students with a mission can best be explained through its slogan: We are college life. Published by Shweiki Media Printing Company, it is distributed in five Texas cities (Austin, Houston, San Antonio, San Marcos and Lubbock). (Studybreaks.com)