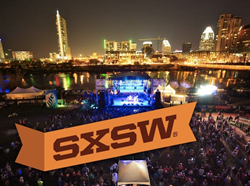 Giving back to the college community by hiring students and giving them the opportunity to add the letters SXSW to their resume will help a company gain clout, credibility and a reputation for coolness on the college campus.
Austin, TX (PRWEB) January 14, 2014
SXSW (South By Southwest) is an Austin-based extravaganza that's part conference, part festival and part party, all celebrating innovation and talent at the forefront of the music, film and tech industries.
Attendees have witnessed everything from countless artist performances, epic films, and the launch of Twitter to, well, Bill Murray bartending at Shangri La.
And although many of the higher-end events (and the wristbands/badges required) are outside of a typical college student's price point, the fact that festival timing often coincides with Spring Break has made SXSW a popular travel destination for students around the globe.
Here Study Breaks College Media presents tips for small businesses to utilize to take advantage of SXSW festivities and market to the college crowd.
Hire a Street Team
Hiring a promotional street team is a great way to not only involve students and make them aware (and fans) of one's company, but to simultaneously take care of basic marketing tasks as well.
Students value internships and especially a position that allows them to work a hot, big-name event like SXSW. Giving back to the college community by providing students with the opportunity to be submerged in the festival and add the letters SXSW to their resume will help a company gain clout, credibility and a reputation for coolness on the college campus.
Once one has developed a street team marketing strategy, they can use street team employees to give away swag, grow social media likes, or increase campus relevance. Hiring students is not only a way to find enthusiastic employees, but employees who will go on to be spokespeople for the brand, long after the festival is over.
Run Social Media Contests
Whether one is giving away SXSW tickets or targeting attendees with prize giveaways, a social media contest is a crucial element for any business invested in social media. Not only does it allow a company to gain followers or "likes" when a potential customer initially visits a page to enter (especially on a page that is like-gated, where they are required to "like" a business's fan page to enter), but it allows companies to continue to market their product and push out their message to this person through social media outlets even after the contest is over.
However, in a festival-type setting, rarely is a viewer enticed enough by one's product line to visit one's page without an incentive. This proves especially true in an already saturated arena such as SXSW. That's why contests are essential to provide a good reason for people—especially busy and often self-absorbed college students—to visit a page. It's crucial to answer students' inevitable question: "What's in it for me?"
If one is to maximize SXSW marketing efficiency, growing one's digital reach should be a definitive goal throughout the week, and contests are a great way to meet this goal.
Give Away Swag
Swag is the physical equivalent of the benefits a social media contest brings—but with immediate results. While the swag being distributed may be less glamorous than the prize being given away as a prize for a social media giveaway, little branded tokens like T-shirts, pens, hats, and industry accessories are a way to immediately be seen as a friend by potential customers, simply because one is giving away something for nothing. And, even better, by giving away things branded with ones logo, that people might use for months, weeks or even years after the event, it's a simple way to get free advertising. After all, who needs to buy a billboard when a company can have hundreds of people walking around with the logo emblazoned on their chests?
And when marketing to college students, swag is more effective than ever. Students' favorite word is "free," and no-strings-attached giveaways are a great way to earn their favor.
Develop SXSW Partnerships
Companies from every stretch of the globe will be flying into Austin with dreams of a Texas takeover. Because of the inherent space value, often small businesses that are geographically close can be left out of the loop.
Uniting with other small businesses under a local umbrella or partnering with larger startups as a local asset can provide a mutually beneficial relationship to both parties.
A major aspect to the SXSW experience is the aura of discovery. Running with this strategy and pitching oneself as a local ally to a major brand is the epitome of the SXSW philosophy and a great way to gain favor among locals and visitors alike.
Study Breaks College Media provides a one-stop solution for small businesses, providing them with big marketing strategies and delivering college students.
Study Breaks magazine is an award-winning line of monthly entertainment magazines for college students with a mission can best be explained through its slogan: We are college life. Published by Shweiki Media Printing Company, it is distributed in five Texas cities (Austin, Houston, San Antonio, San Marcos and Lubbock). (Studybreaks.com)