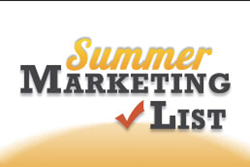 The trick to summer social media marketing is to tweak content style--keeping this who aren't around reading your content while simultaneously appealing to the interest of potential short-term buyers and new customers.
(PRWEB) May 23, 2013
Business philosopher Jim Rohn says that, "life and business is like the changing seasons. You cannot change the seasons, but you can change yourself." For many small business owners (particularly those aimed at the college market), the summer season represents not only a change in weather, but a transformation of the market itself. Students are moving, people are traveling, and a surfeit amount of activities reveal themselves to the consumer as the sun warms the Earth into motion. Summer marketing challenges lie in maintaining brand recognition among those who leave while at the same time differentiating from the usual, everyday marketing routine to attract new customers: the remaining niche group. This is a feat not easily achieved, especially when one considers the patterns most marketing plans are structured using. Dipping two feet in different streams, all while under a smaller sized budget, can seem somewhat daunting to those without a full-fledged marketing department. But once one gains insight into some obtainable strategies, a shift in content style could be the change needed to cut through summer noise. Utilizing these advertising, promotion and marketing tips can help a business rise to the top of the ranks, even during the typically slower summer months.
Social Media
Social media is the best way to maintain and keep in touch with those not physically near a location while still continuing to market towards new customers. The trick to summer social media marketing is to tweak content style--keeping this who aren't around reading your content while simultaneously appealing to the interest of potential short-term buyers and new customers. If, as a restaurant, photos of food generate the majority of content shared, add a third-party Facebook app and start running contests (make sure the prize is worth-while). If one specializes in year-round promotions, perhaps photo/video sharing is the way to go. Something serving as physical proof of what people are missing will entice new viewers into a "trial mode." The central theme in content sharing over the summer should be more than just the usual dialogue between friends. The market has changed, and so should one's page.
Add a Content Stream
The cheapest and most radical way to climb up the summer social ranks is to add a completely new content stream into the wave of social sharing. YouTube is one of the most popular social sites that businesses (for whatever reason) seem to ignore. With the use of a simple flip or camera phone, one can use their customers as the focal point of their content data (which a massive advantage when it comes to local sharing). Filming a DJ mixing at one's venue, taking a video of an all-you-can-eat food challenge, or filming any sort of fun event or promotion encourages both participation and sharing by simply adding the prospect of a customer finding video of themselves online. Even a simple app like Twitter Vine allows the most amateur videographer to snap a short video and share it instantly. Perhaps the most advantageous aspect of video sharing is that a business is literally only as limited as their own imagination allows. And the more creative the project, the more one's business will stand out- and the more local hits will accumulate organically.
Support a Summer Event
One of the best attributes of summer is freedom from a structured schedule. Wednesdays could potentially become just as crucial to success as the usual weekend. A good idea is to take a cue from bars and try running daily summer deals. A big enough discount is bound to attract those looking to try something new, and one might find a diamond where there once was just rough.
Coupon, Coupon, Coupon
If one is focused on bringing in new business over the summer, nothing interests people more than a well-placed coupon. Many business owners feel that paying to run a coupon during the months when their market decreases is a negative (as less will be around to see it). The truth is that passive marketing never helped any business grow. The key to winning with coupons is that one has to make the discount large enough to build excitement. With a coupon backed by an aura of excitement, those who remain part of the market during the summer could potentially form a funnel that translates into a sort of tipping point that assists a business in growing—and continuing to grow beyond the summer months.
Study Breaks College Media provides a one-stop solution for small businesses, providing them with big marketing strategies and delivering college students.
Study Breaks magazine is an award-winning line of monthly entertainment magazines for college students with a mission can best be explained through its slogan: We are college life. Published by printer and publisher Shweiki Media Printing Company, it is distributed in five Texas cities (Austin, Houston, San Antonio, San Marcos and Lubbock). (Studybreaks.com)