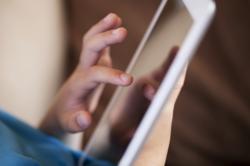 Playing games can be one of the best ways to engage young learners and build the imagination. ... A little healthy competition can be a wonderful motivator for learning.
Los Altos Hills, Calif. (PRWEB) July 23, 2012
Building reading skills through games can be an effective and engaging literacy tool. Not only are games fun, but they also provide a different way for children to process information and build creativity. With school out for the summer, various reading-focused games can be purchased, played online or created using common household items, said Deme Clainos, a spokesman for StudyDog, an online reading program geared toward elementary students.
Click here to see why kids love it.
"Playing games can be one of the best ways to engage young learners and build the imagination," Clainos said. "A little healthy competition can be a wonderful motivator for learning. Games can also teach other valuable lessons like teamwork, problem solving skills and good sportsmanship."
StudyDog recommended these games to help children build reading skills:
Board Games
Scrabble Junior by Hasbro $14.99
This classic board game for adults has been redesigned in a more kid friendly format with Scrabble Junior. Children can work on their spelling and reading skills as they match the letter tiles to words on the grid. Once a word is complete, the player is rewarded with a scoring chip. The player with the most chips at the end wins.
Boggle Junior by Hasbro $14.99
Children playing Boggle Junior will get lessons in the alphabet, spelling and reading through pictures and matching. It also helps kids learn the names of different objects with 30 different picture and word cards included. The game has two different skill levels for preschoolers just starting to learn the letters to more advanced readers.
What's Gnu by Think Fun $19.99
Children race to build the most three-letter words in What's Gnu. Players are given one-letter Word-Starter cards, which are laid out for everyone to see. Using the Letter Getter slide, two letter tiles are revealed that are then matched with the Word-Starter cards. The game teaches word recognition, spelling and vocabulary.
Online
StudyDog.com
StudyDog teaches critical reading skills through engaging lessons and games that automatically adapt to each child's specific needs. The lessons cover phonemic awareness, phonics, fluency, vocabulary and comprehension. Parents and teachers are provided real-time progress reports to see what skills students are mastering and what areas could use more attention.
"StudyDog was designed to look like a game, but is really a scientific, cutting edge reading program used to teach basic reading skills using individualized lessons and engaging games," Clainos said.
ABCya.com
Free educational games geared toward kindergarten through fifth-grade students are featured on ABCya.com. The games are broken down by grade level and subject. Children using the site build reading, math and other skills while engaging in a wide variety of interactive activities.
Do It Yourself
Story Cubes
Story Cubes are a great way for children to learn how to form simple sentences using building blocks. Cover the blocks with paper or painter's tape and write basic words on each side of the block using a permanent marker. Be sure to include names, nouns, action words and sight words. Have child read the sentences aloud once built.
Bang!
Bang! teaches basic words using a simple container and index cards. Write basic sight words or words from the Dolch List on the index cards and write the word "Bang!" on a couple of the cards. Place the cards in the container and have the children take turns drawing cards and reading them aloud. If the player reads the word correctly they keep the card, if they don't the card goes back into the container. If they pull out the word "Bang!" they have to put all of their cards back into the container. The player with the most cards after a specified period of time wins.
About StudyDog
StudyDog is a proven leader in helping children quickly learn to read and has helped more than 2 million kids master the basics. The company creates interactive reading programs specially designed for elementary students. What sets StudyDog apart from other learning programs is how StudyDog engages future readers as young as 3 years old. Similar reading software is able to engage older students who already know how to read. But StudyDog uses games and other features to connect with younger children who haven't learned to read yet. StudyDog's Adventures in Reading series is used in more than 3,000 schools nationwide. The lessons were designed to meet state early learning standards and the guidelines of the National Reading Panel. Founded in 2002, StudyDog programs have been used in schools for the past six years. For more information, visit http://www.studydog.com or call 1-866-643-4449.