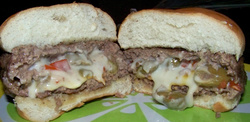 Say No to boring burgers! Say YES to StufZ!
Brownstown, MI (PRWEB) March 10, 2011
StufZ Ultimate Stuffed Burger Maker – http://www.stufz.net
Make the Ultimate Stuffed Burger in 3 Easy Steps. Shape it-Stuff it-Seal it
The StufZ ultimate burger maker creates the perfect stuffed hamburger, turkey burger, chicken burger or any other ground meat burger. The StufZ Ultimate Burger Maker is easy to use and perfectly seals all of the toppings inside the burger. This product allows all of the toppings to infuse flavor throughout the burger. StufZ not only makes the perfect stuffed burger, but also makes perfect hamburger patties in a variety of sizes to suit any appetite. Owners of StufZ will be the envy of neighbors and friends.
Don't be fooled by imitations. StufZ is self contained unit, no parts to lose or change out! It is easy to use, dishwasher safe and made in the USA.
StufZ are available to purchase at StufZ.net, and local Michigan retailers. They are available in single or 2-Pack as well as larger volumes for distributors and retailer nationwide.
StufZ eliminates the need for other burger accessories such as a patty maker or cup burger maker. The possibilities are endless with StufZ. From the perfect patty maker, to turkey burgers stuffed with mashed potatoes and gravy, and let's not forget the breakfast burgers, ground sausage StufZ filled with scrambled eggs and cheese. Any ground meat and an imagination will work!
A must have item for 2011 grilling season.
Wesley Corporation is a privately owned company based in Brownstown, Michigan. The product received amazing reviews! StufZ Ultimate Stuffed Burger Makers are made in the USA and is patent pending.
###