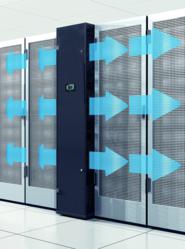 The partnership of STULZ mission-critical energy products and Eaton's customizable data center containment systems provides an efficient, economical and intelligent cooling system for any data center. — Oliver Stulz, President for STULZ
Frederick, MD (PRWEB) March 20, 2012
STULZ Air Technology Systems, Inc. (STULZ), the U.S. design and manufacturing arm of the global STULZ Group, today announced a new U.S. strategic partnership with industrial manufacturer Eaton Corporation during the AFCOM Data Center World conference in Las Vegas, Nev. The STULZ partnership with Eaton Corporation will combine STULZ's diverse mission-critical data center cooling technologies with Eaton's portfolio of energy-efficient data center containment systems.
The STULZ and Eaton partnership will also give data center owners access to STULZ and Eaton's diverse portfolio of products and services to better manage thermal requirements of IT equipment regardless of the size of the data center.
In addition, the partnership provides increased opportunities for data center owners to specify best-in-class STULZ in-row and perimeter cooling technology from its family of Mission Energy Products with Eaton's data center rack, power, cooling, and monitoring systems.
"STULZ is pleased to partner with Eaton, the leading technology provider of rack and power systems," remarked Oliver Stulz, President for STULZ. "The partnership of STULZ mission-critical energy products and Eaton's customizable data center containment systems provides an efficient, economical, and intelligent cooling system for any data center."
Eaton is a global technology leader of electrical, hydraulic, and mechanical components and systems for the aerospace, automotive, electrical distribution and control, commercial trucking industries, and military units. Eaton's electrical business is a global leader in power distribution, power quality, control and automation, power monitoring, and energy management products and services.
"Partnering with STULZ enables Eaton to offer its customers pre-engineered, integrated solutions addressing data center operators' most pressing power and cooling issues," said Ed Komoski, president of Power Quality Operations at Eaton. "Eaton's enclosure, containment, and power management systems paired with in-row and perimeter cooling solutions from STULZ can power efficiency gains and reduce operating expenses in even the most challenging data center environments."
Both Eaton and STULZ will display their data center product portfolios at the AFCOM Data Center World conference. Application experts from both Eaton (booth #401) and STULZ (booth #407) will be present to discuss the latest technologies available for thermal management and power management solutions for data center operations.
To learn more about STULZ's full line of environmental control equipment, visit stulz-ats.com. For more information about Eaton, visit http://www.powerquality.eaton.com. More details about AFCOM Data Center World are available at http://www.datacenterworld.com.
About STULZ Air Technology Systems, Inc.
STULZ Air Technology Systems, Inc. (STULZ) is an ISO 9001 registered manufacturer of environmental control equipment including a full line of energy efficient precision air conditioners, ultrasonic humidifiers, and desiccant dehumidifiers. The company is responsible for product development, manufacturing, and distribution for the North American arm of the international STULZ Group. For more information about STULZ-ATS and its products, call 301.620.2033. E-mail your request to info(at)stulz-ats(dot)com or visit http://www.stulz-ats.com.