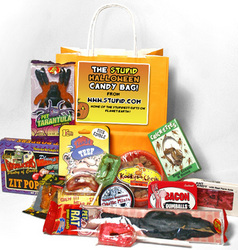 Throw out those boring ol' tootsie rolls, candy corn, and chocolate bars
Los Angeles, CA (PRWEB) October 7, 2009
Looking to fill your Halloween candy bag with something totally different this year? Stupid.com, Home of the Stupidest Gifts on Planet Earth, has released their first annual list of weird, wild, and just plain wacky Halloween Candy for Trick of Treating and Parties.
From the icky and scary, to the disgusting and fun, their 100% edible goodies are guaranteed to satisfy your Halloween sweet tooth - and may even cause a few laughs along the way.
This year, Americans are projected to spend over $4 billion on Halloween candy. So how can one still be the most popular house on the block without spending a boatload? With prices all under $5, Stupid.com's collection of bizarre and outrageous candy is an affordable, creative way to celebrate the holiday.
"Throw out those boring ol' tootsie rolls, candy corn, and chocolate bars," says Stupid.com President and CEO Jim Kalmenson. "This year, we're daring everyone to try something stupid when selecting their Halloween candy."
Stupid.com's Crazy Halloween Candy List includes:

Crick-ettes- Crispy, crunchy crickets! Available in Sour Cream & Onion, Salt & Vinegar, and Bacon & Cheese, for the most adventurous.
Gummy Pet Rats & Tarantulas - These giant, squishy pets even come with directions how to care for them! Made by Jelly Belly, so you know their delicious.
Zit Poppers - What's more gross than popping a zit? Popping a candy zit, and then eating it! Bad skin never tasted so good.
Dog Food For Humans - Show your friends respect by setting out a nice bowl of yummy, crunchy dog food.
Scorpion Pops - How many licks does it take to get to the center of a scorpion pop? Find out at your own risk.
Garlic Mints - Those hunky Twilight vampires won't stand a chance against your breath after a few of these repellents.
Bacon Gumballs - Blow bubbles of swine.
Fear Factor Octopus - Fresh from the sea, we dare you to slurp down these slimy pieces of Octo-fun!
Foam Blaster Candy: Legend has it a combo of antacids and pop-rocks can be explosive.
About Stupid.com - Founded in 2001, Stupid.com has been spreading stupidity one gift at a time for over 8 years now. For all the craziest, stupidest, and most hilarious Halloween candy and more, visit Stupid.com today.
Follow Stupid.com on Twitter (@StupidFanClub)
Become a Fan on Facebook
For more information, samples or photos please contact:
Jennifer Hoffman from Get Some Media at Jennifer@GetSomeMedia.com or 602.628.5366.
####