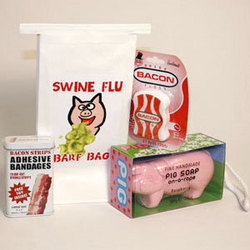 Nothing relieves the tension of a tough year better than a good laugh
Los Angeles, CA (PRWEB) December 2, 2009
Just in time for the holidays, Stupid.com reveals The Stupidest Gifts for 2009. This highly anticipated annual list is more ridiculous than ever, with gifts that range from silly and funny, to downright wild.
Americans will spend over $400 Billion on holiday gifts this year, and many of those dollars will be spent on novelty items. Since 1996, Stupid.com has scanned the planet to assemble the world's most renowned collection of bizarre, outrageous, and stupid gifts.
"Nothing relieves the tension of a tough year better than a good laugh," says Stupid.com President Jim Kalmenson. "Once again, we endured a rigorous process, reviewing over 5,000 gag gifts, and we are very proud to announce this year's list of stupidity."
The Top 10 Stupidest Gifts of 2009:
1. Swine Flu Survival Kit: Whether you've got a sick friend, or you're the one with a case of the piggy blues, the Swine Flu Survival Kit has everything you'll need to survive this nasty H1N1. Throw up never looked so funny! $14.99
2. Dog Poo Christmas Ornament: That Christmas smell is in the air! Actually, this charming tree decoration doesn't really smell at all, but it is about as vile as an ornament can be. Hang one on your tree - and hey, at least you won't step on it! $7.99
3. Life Vest for Golf Balls: Now you can save your golf ball and possibly your golf game with the Golf Ball Life Vest. This tiny orange flotation device is custom-made to fit over your golf ball, so give it your best swing and don't fear the water! $7.49
4. Freudian Slippers: Slide your feet into a pair of Freudian Slippers and watch your anxiety, paranoia and obsession melt away. These plush and comfy slippers feature a stuffed Sigmund on the front. $25.99
5. Wall Street Finance Chimp: Who are these monkeys running the stock market? It seems like a chimp could do a better job managing our finances. Now you can get Wall Street quality advice - for the cost of a few bananas - with our Wall Street Financial Expert Chimp. $7.49
6. Choke The Annoying Chicken: Anger management takes a new form with this brightly colored, super annoying squawker. Just give it a choke, and away it goes, dancing and strutting to the Chicken Dance. Most irritating toy ever! $19.99
7. Belching Beer Pager: You'll never lose another beer again - no matter how much you drink! With a click of the remote, your ice cold brewsky holder burps loudly and lights up as far as 60 feet away, so you'll never misplace your suds again! $18.99
8. Talking Toilet Paper: This sassy electronic roll allows you to record your own personal message that will be played every time someone pulls paper off the roll. Customize your message as you sit on your throne, with up to 6 seconds of recording time. No more boring bowel movements! $14.99
9. Obama Dress Up Kit: Who is this man we call our President? He's been called everything from an elitist primadonna to a trailblazing pioneer determined to rescue America. Now you can decide who Obama is by dressing him up in all those roles and more. $14.99
10. Reindeer Food for Humans: This Holiday season, when you're leaving cookies and milk out for Santa, why not throw in a little Reindeer food as well? This bowl of yummy pellets is totally fun and safe for human consumption. Yummy! $1.99
###